[:fr]
Les mayens de Volovron (1800m) se situent au-dessus d'Evolène, sur une terrasse ensoleillée ouvrant une vue grandiose sur tous les sommets du haut Val d'Hérens. Une route carossable permet un accès aisé jusqu'à 200m du chalet. Toutefois, celui-ci est parfaitement isolé.
Le Chalet Nid d'aigle date de 1911 et a été rénové récemment tout en gardant son cachet. Un juste équilibre entre modernité et simplicité.Un véritable nid douillet pour un vrai repos au mayen.Le chalet est équipé de la manière suivante :
Le chalet est équipé de la manière suivante :
– magnifique séjour à l'ancienne avec pierre ollaire d'Evolène, table 6 places, divan et fauteuil
– 2 chambres à coucher : 2 lits 90*200 et 1 lit 160*200 (couettes 140*210)
– cuisine avec frigo et cusinière au gaz
– WC et douche
– terrasse avec vue sur la vallée
La lumière est produite avec l'énergie solaire.
Vu l'altitude et l'isolement du chalet, l'accès n'est garanti que de mai à octobre.
Disponibilités sur demande. Location possible de mai à octobre. Prix selon entente.
Réservation en ligne Mayen Chalet Nid d'Aigle
Réserver
Images Mayen Chalet Nid d'Aigle (1'800m)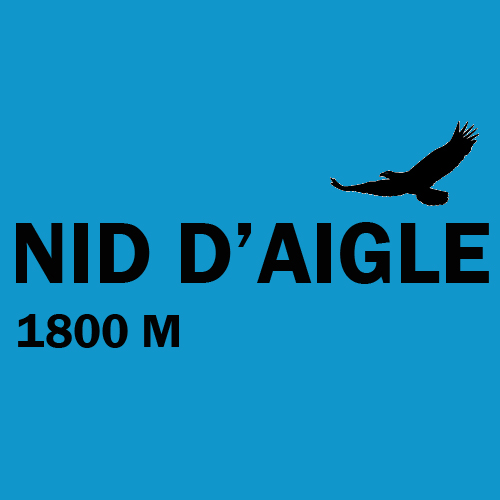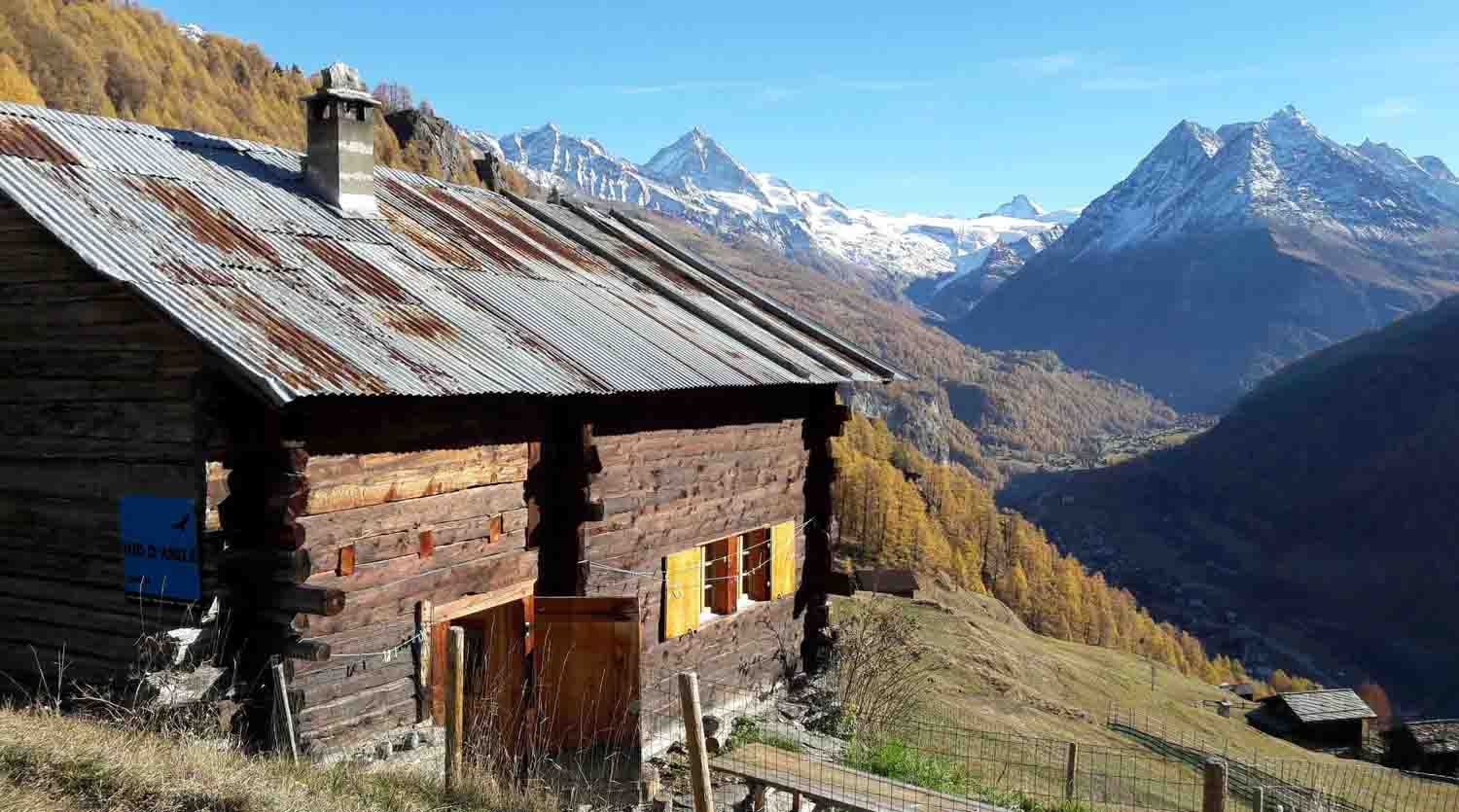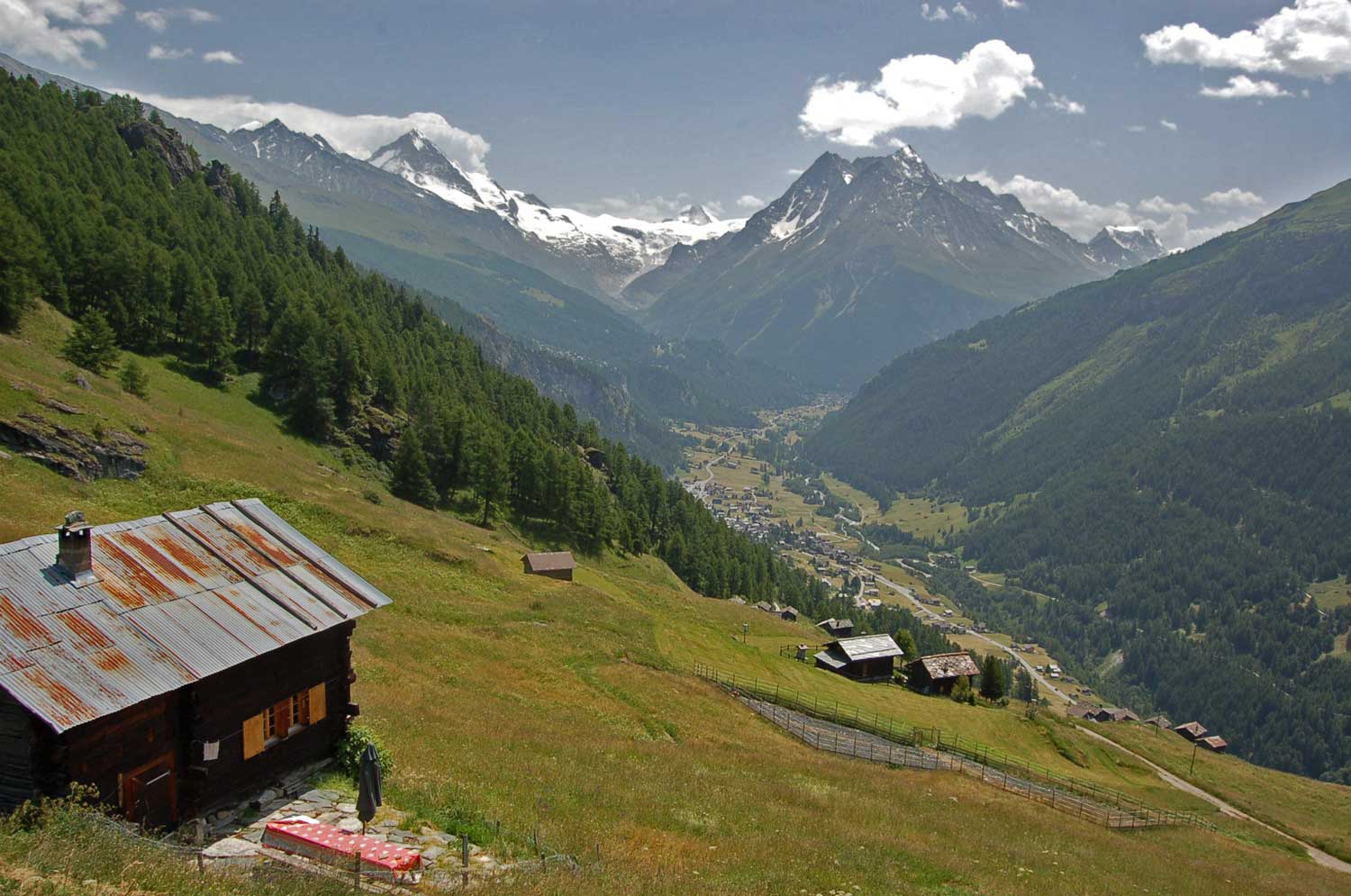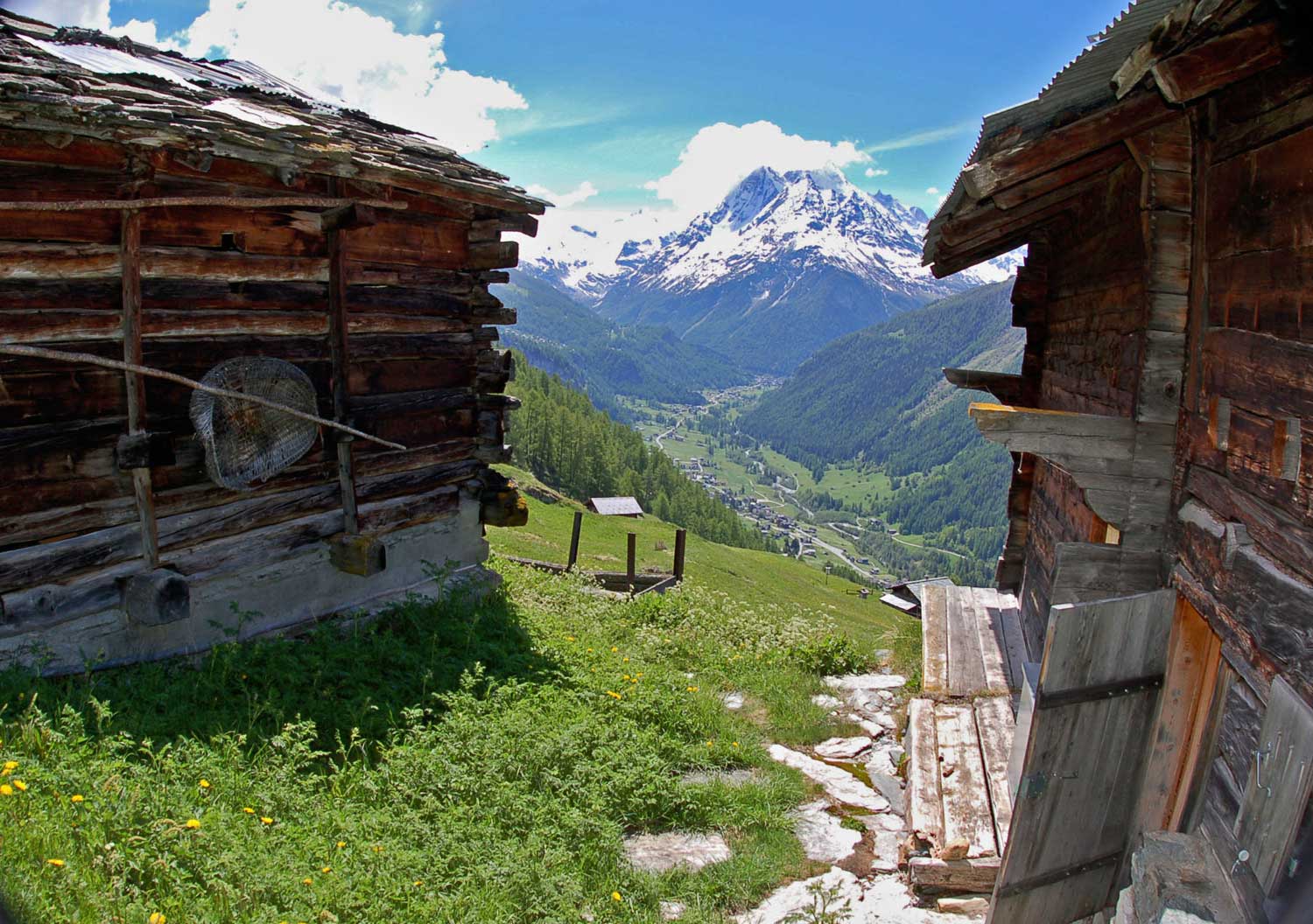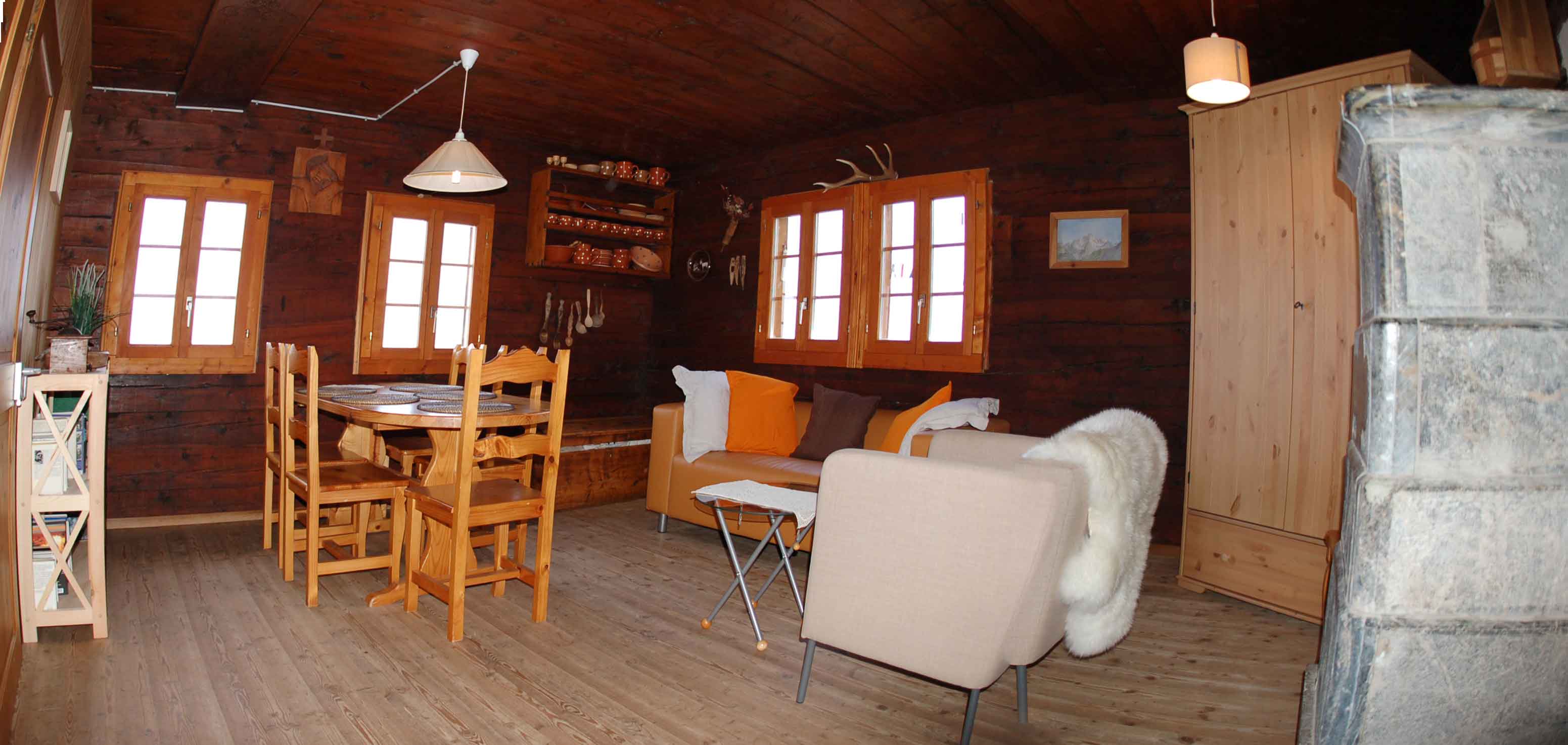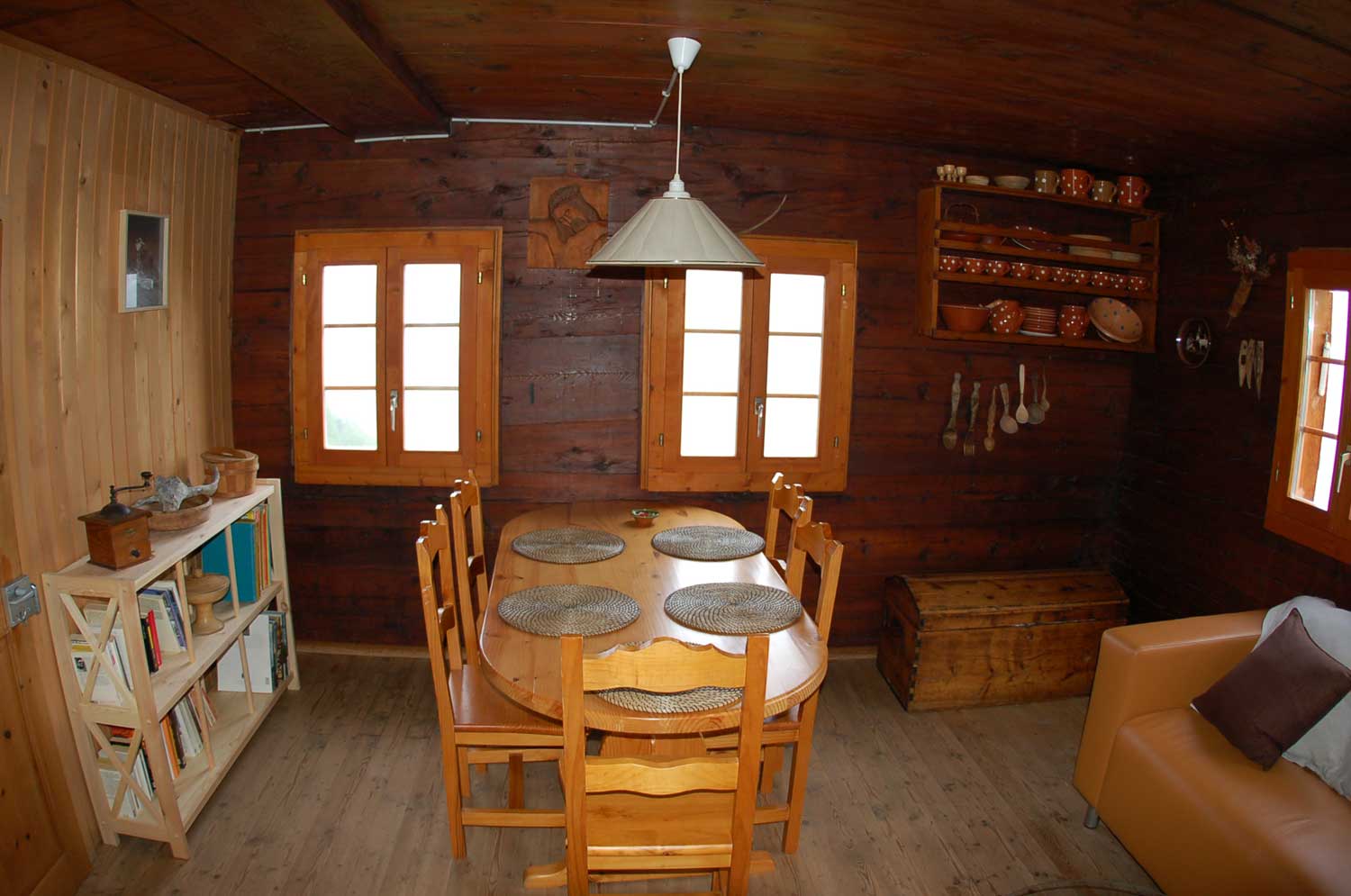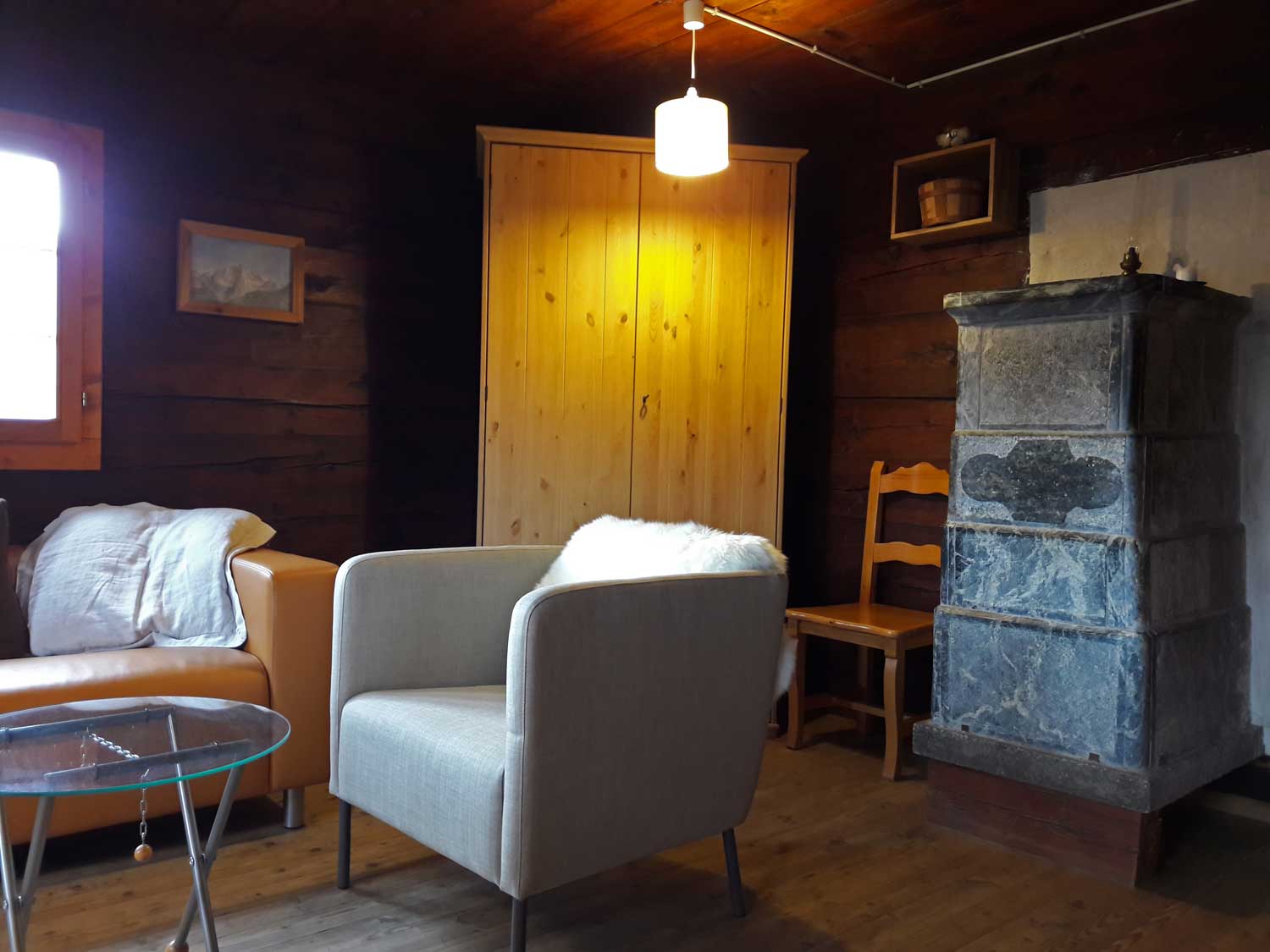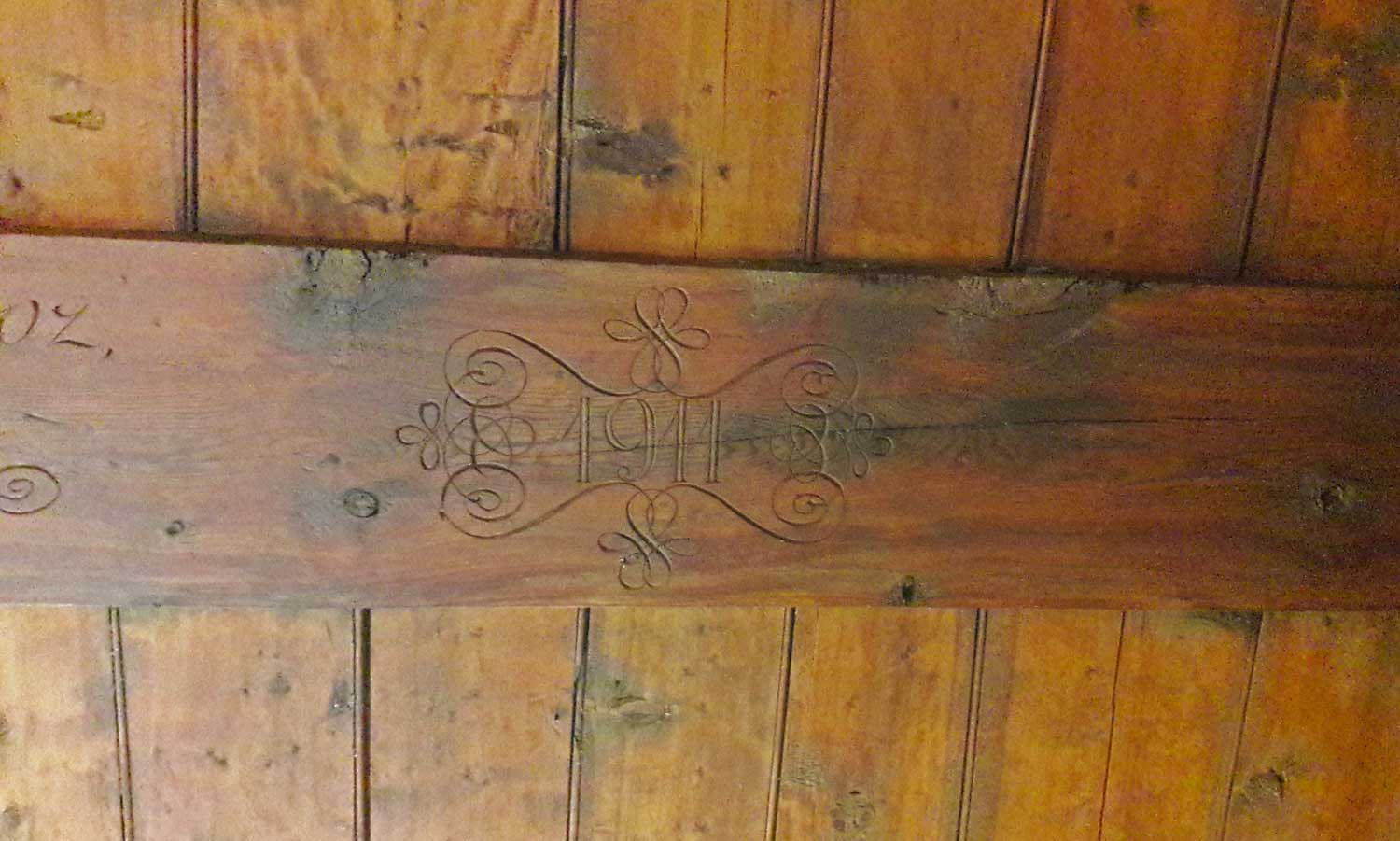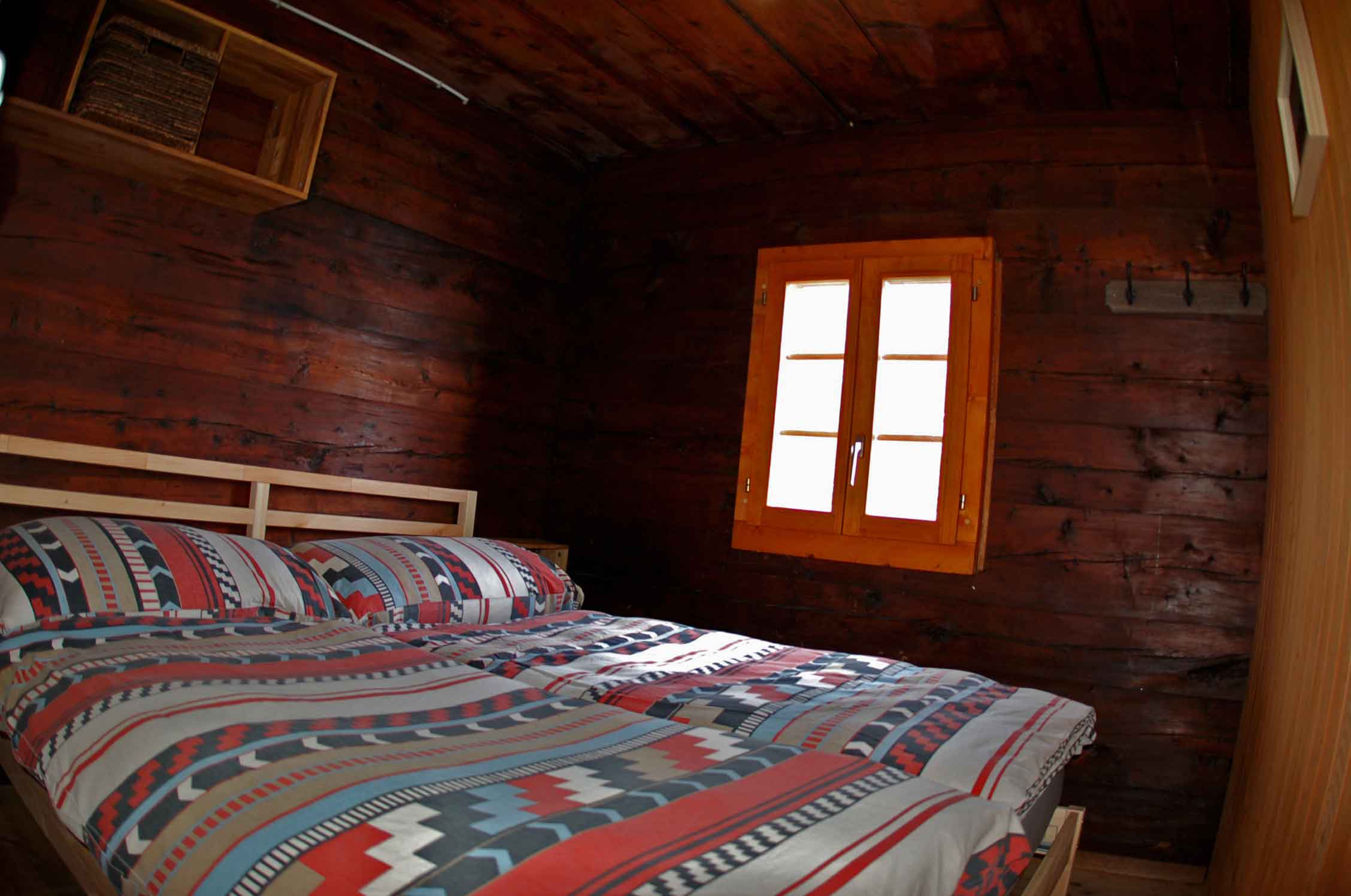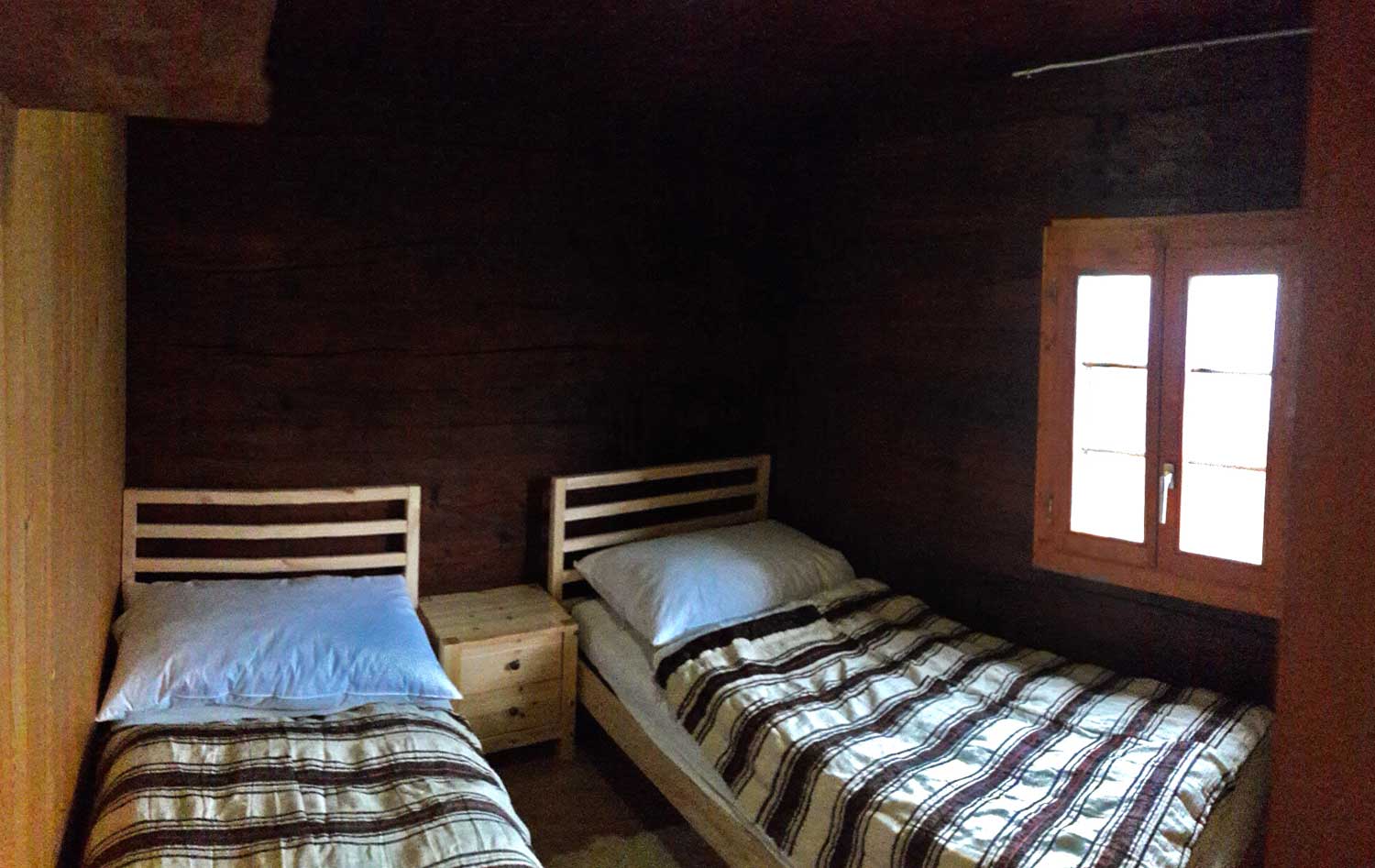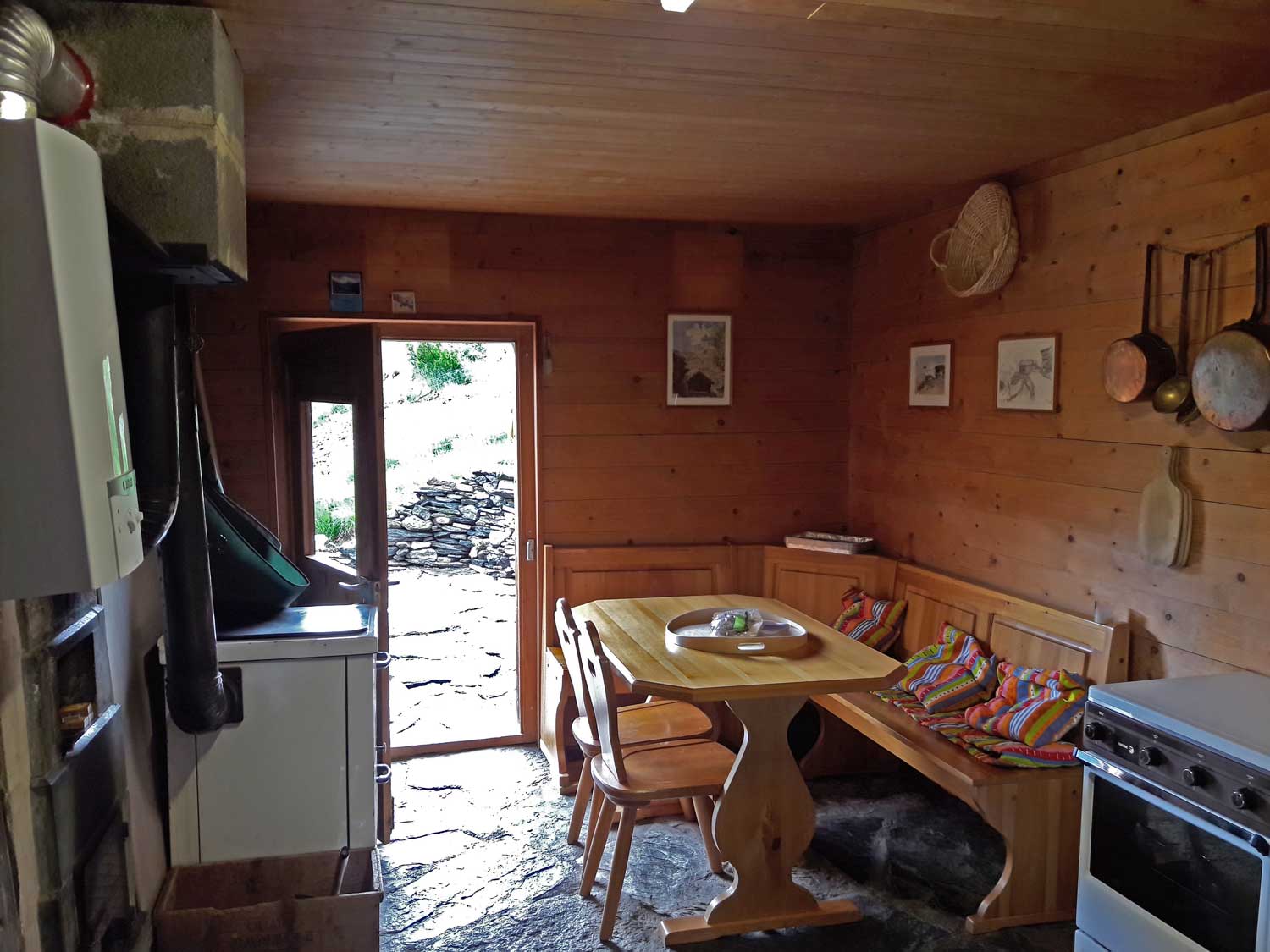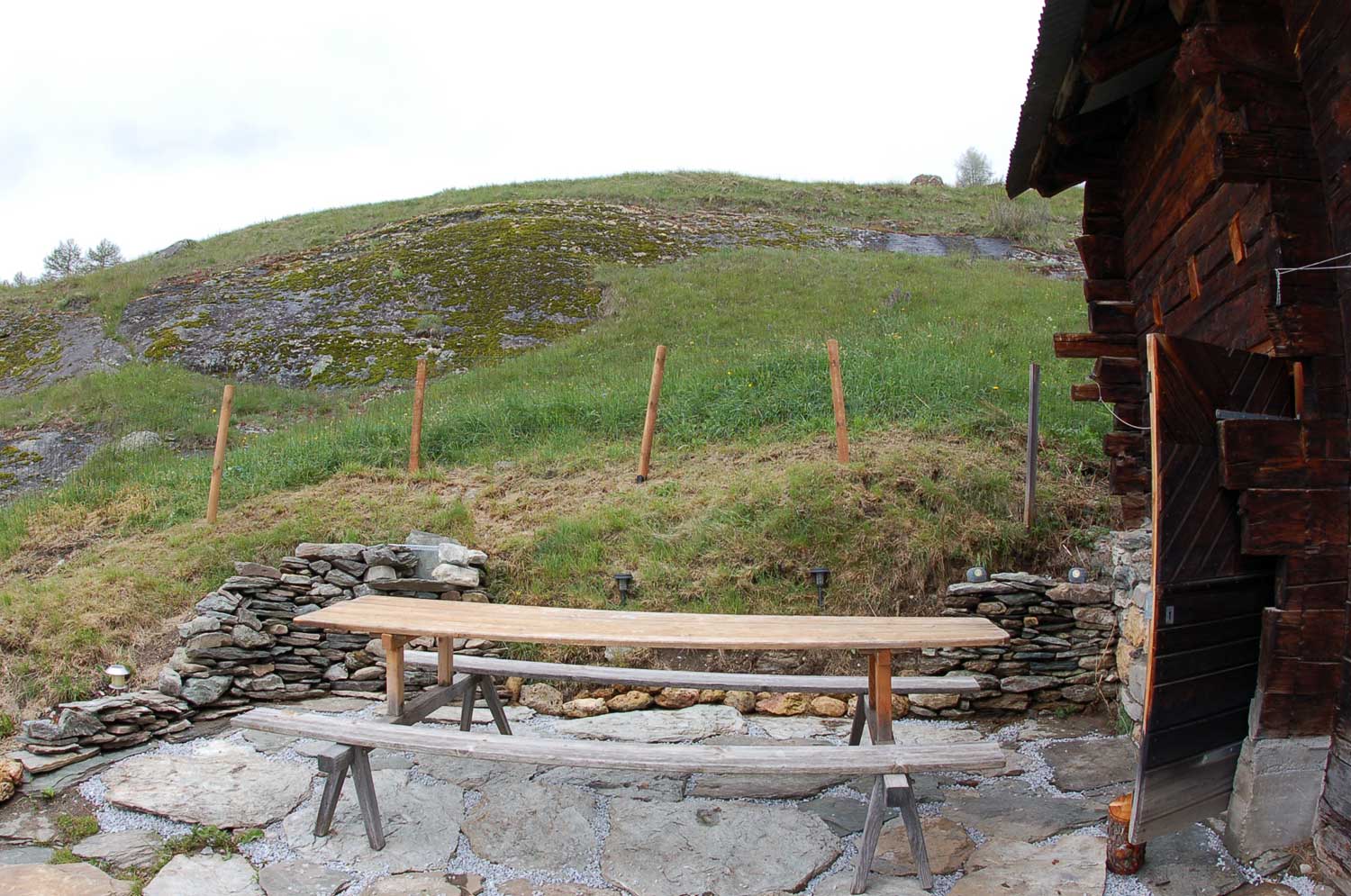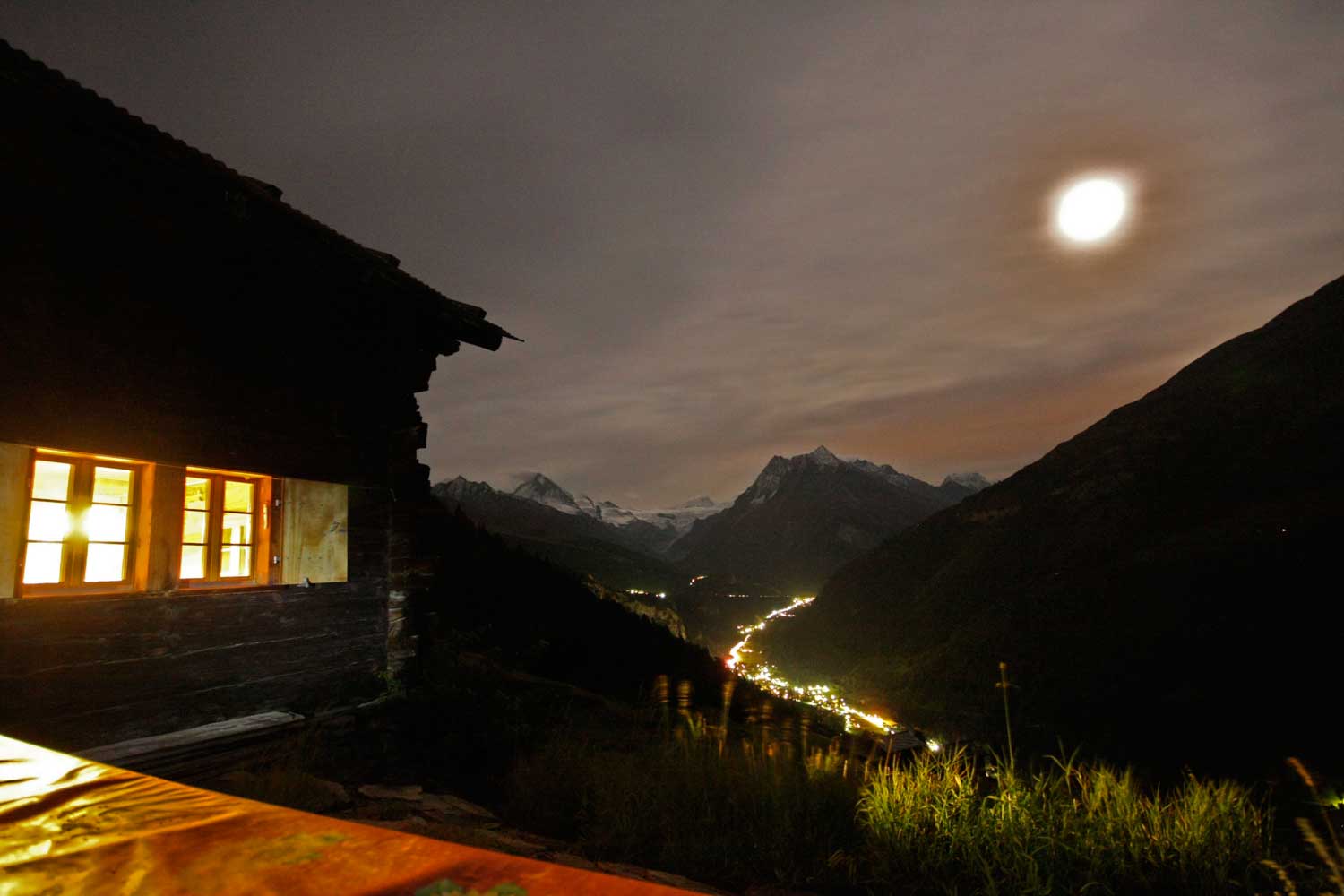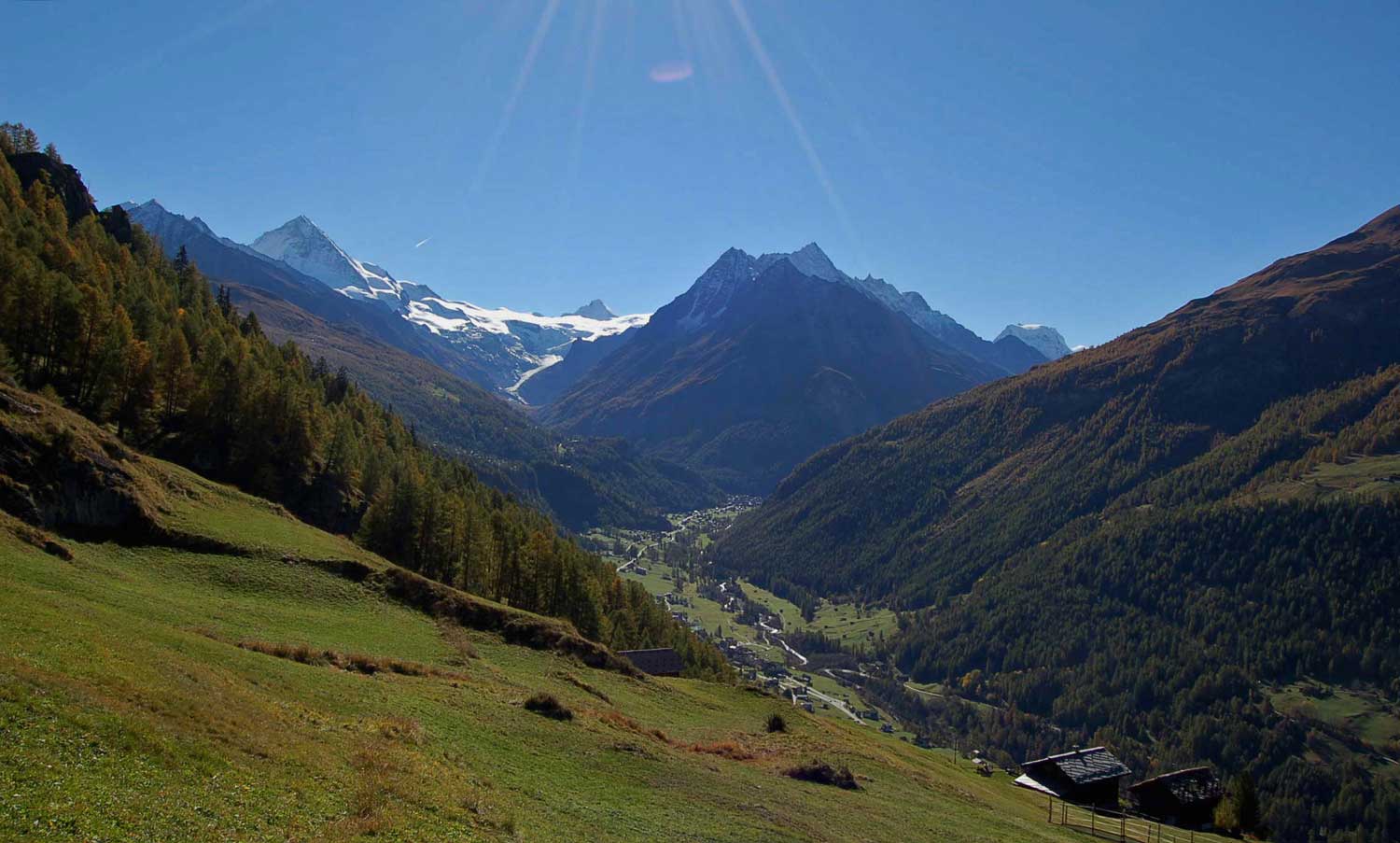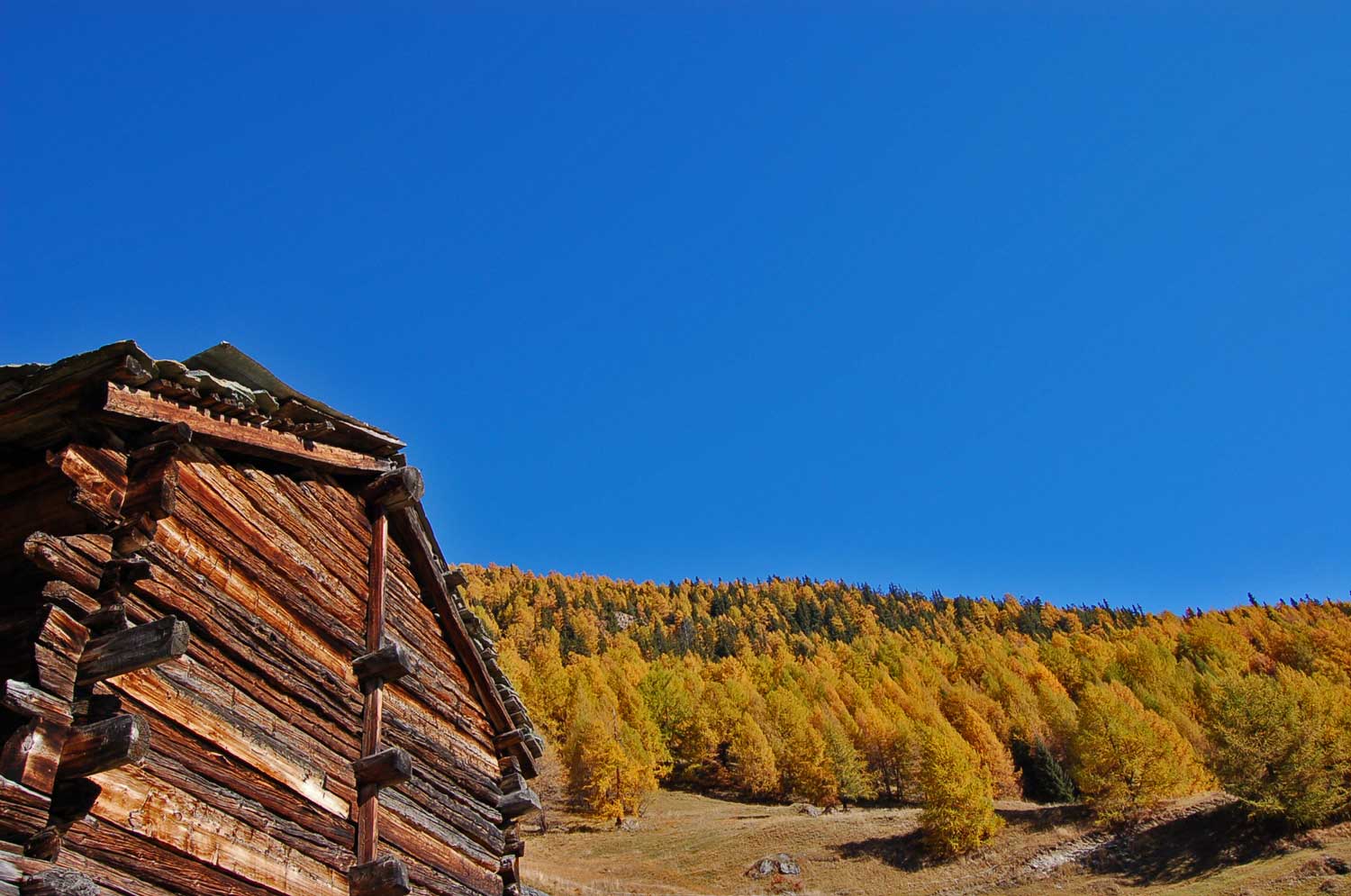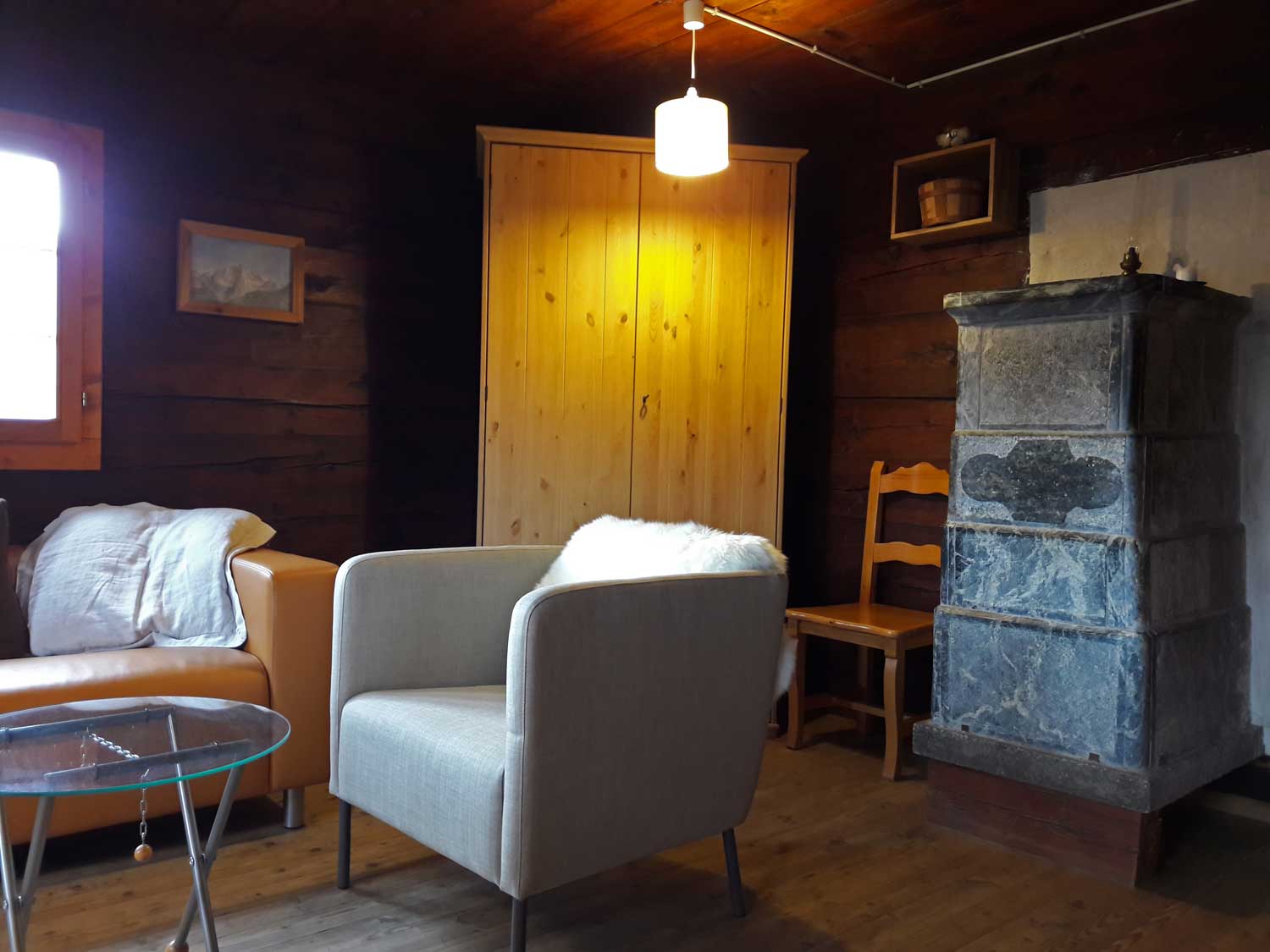 Chalet_Nid_d_Aigle_Mayen_louer_Evolene_Herens_Valais
Mayen_Nid_d_Aigle_Volovron_pierre_ollaire
















[:en]
Your holidays in an authentic alpine chalet built in 1911. Homecoming and healing facing one of the best views of the Alps. The chalet was recently renovated in the traditional style. It strikes the perfect balance between modern amenities and simplicity. A snug Alpine hideaway to get away from it all!
The Eagle's nest Chalet (1800m/5'800 ft) is situated above Evolène, on a sunny terrace with a superb view of the mountain panorama of the upper Val d'Hérens. A road accessible to vehicles affords easy access to the vicinity of the chalet which however is completely secluded.
The chalet features:
– beautiful traditional living room with authentic Evolène-stone stove , 6 seater table , sofa and armchair
– 2 small bedrooms with 4 sleeps : 2 beds 90*200 et 1 bed 160*200
– 1 separate kitchen with a table, oven and small refrigerator
– toilet and shower
– terrace with view on the valley
Light is produced with solar energy
Due to the altitude and isolation, access is only guaranteed from May to October
Avalability and prices on request.
Online-Booking Mayen Chalet Eagle's Nest
Book Now
Pictures Mayen Chalet Eagle's Nest (1'800m)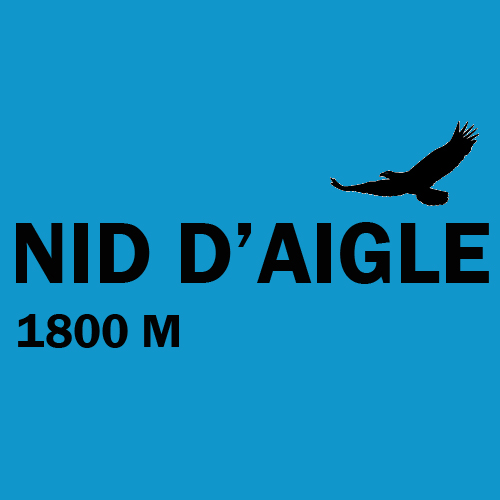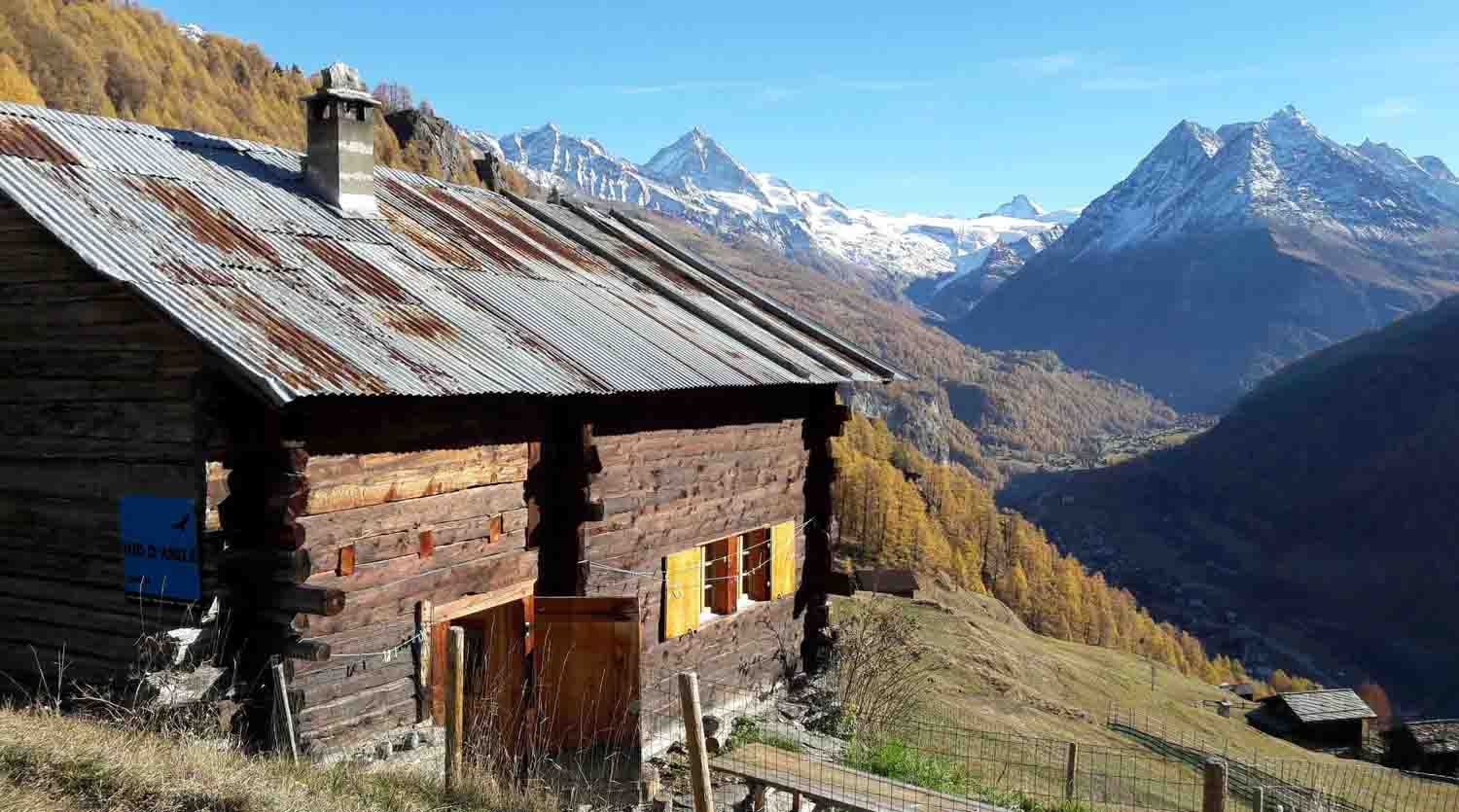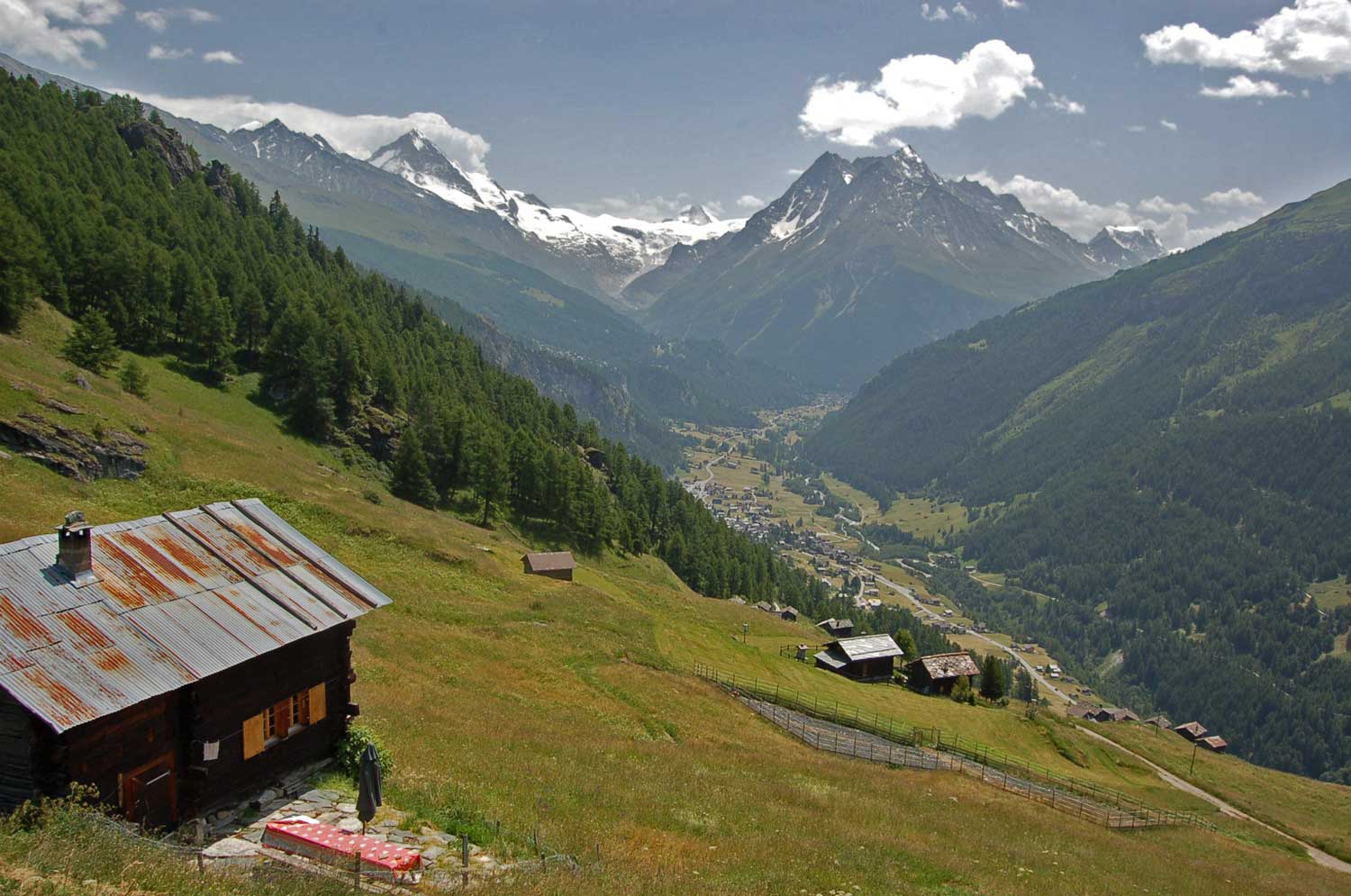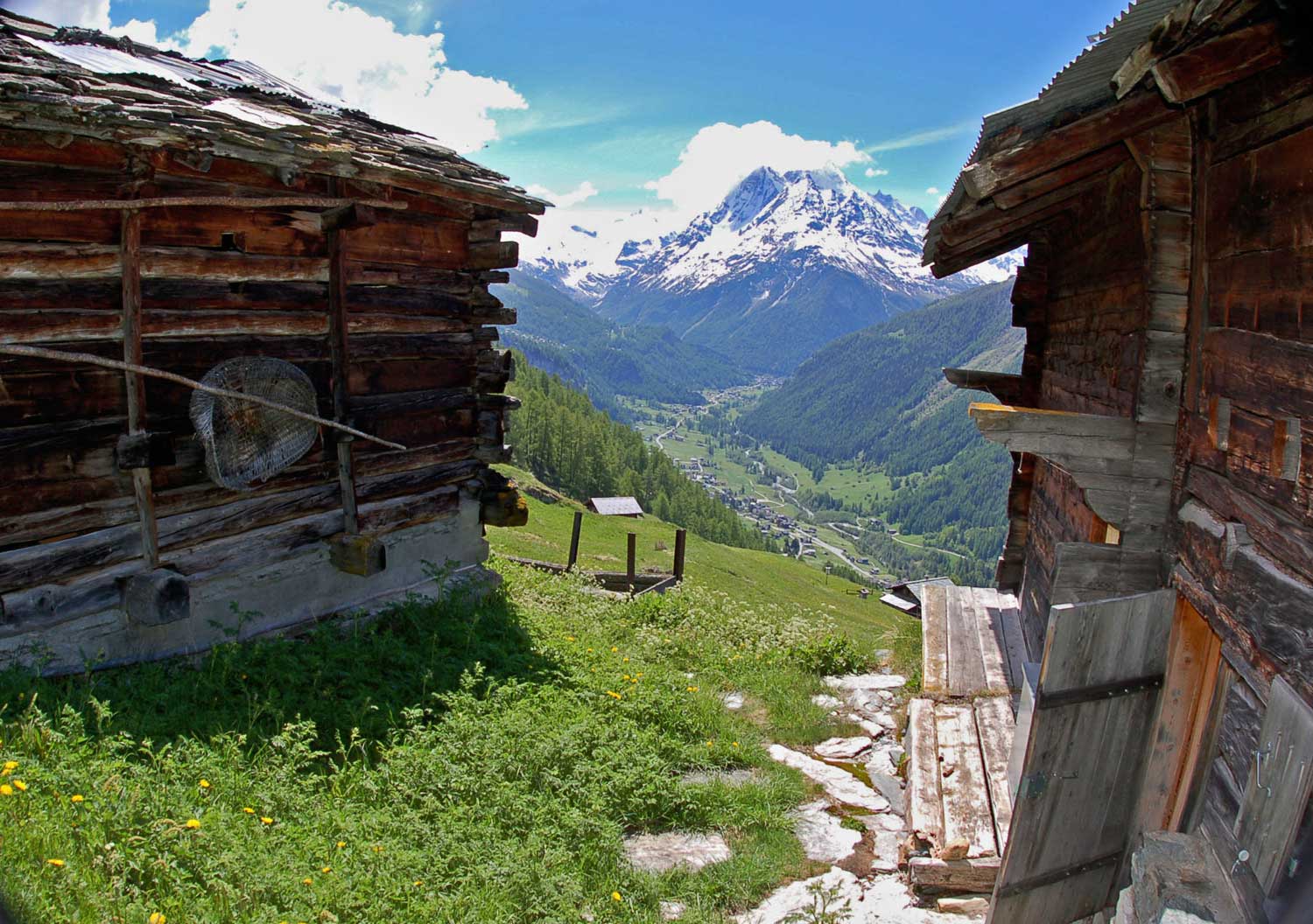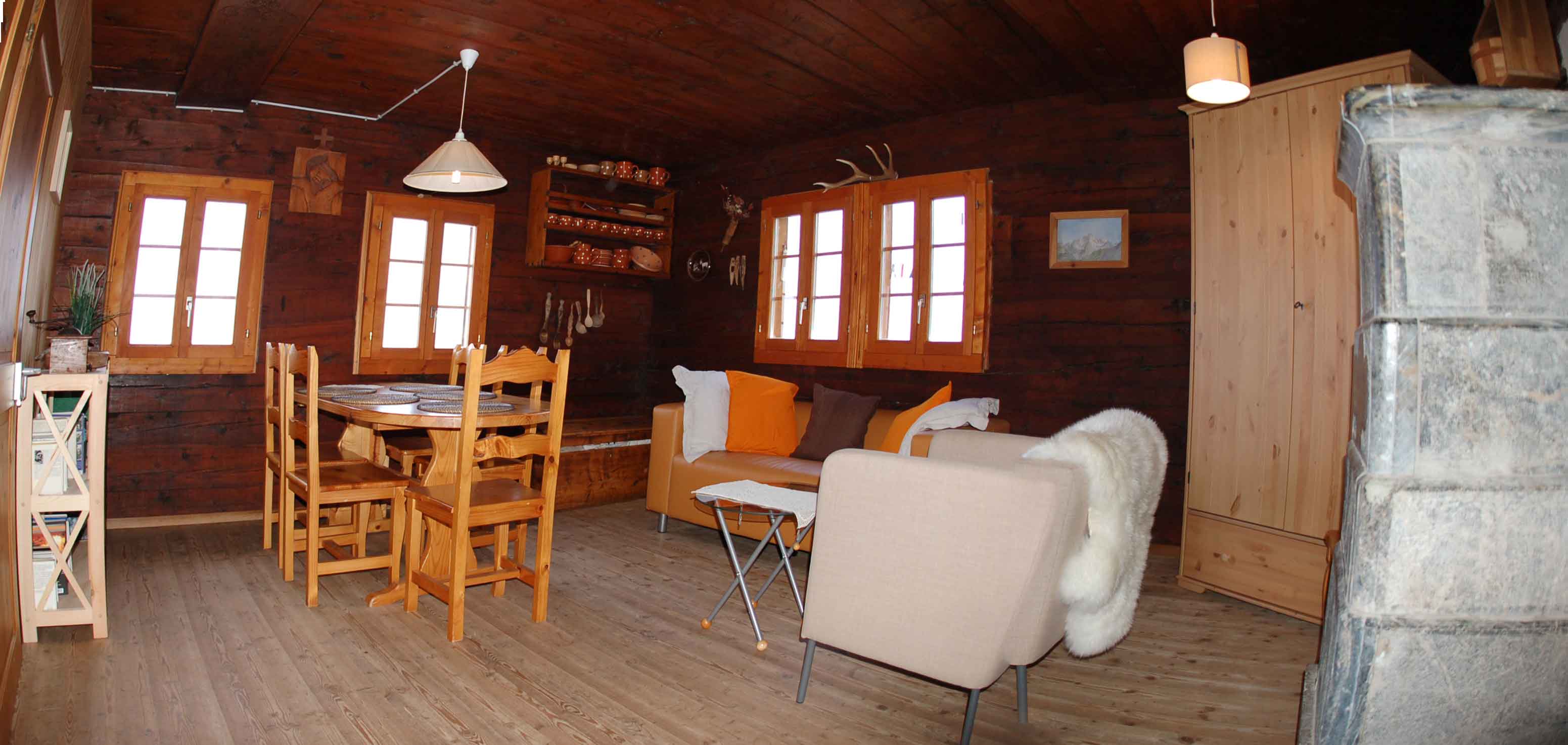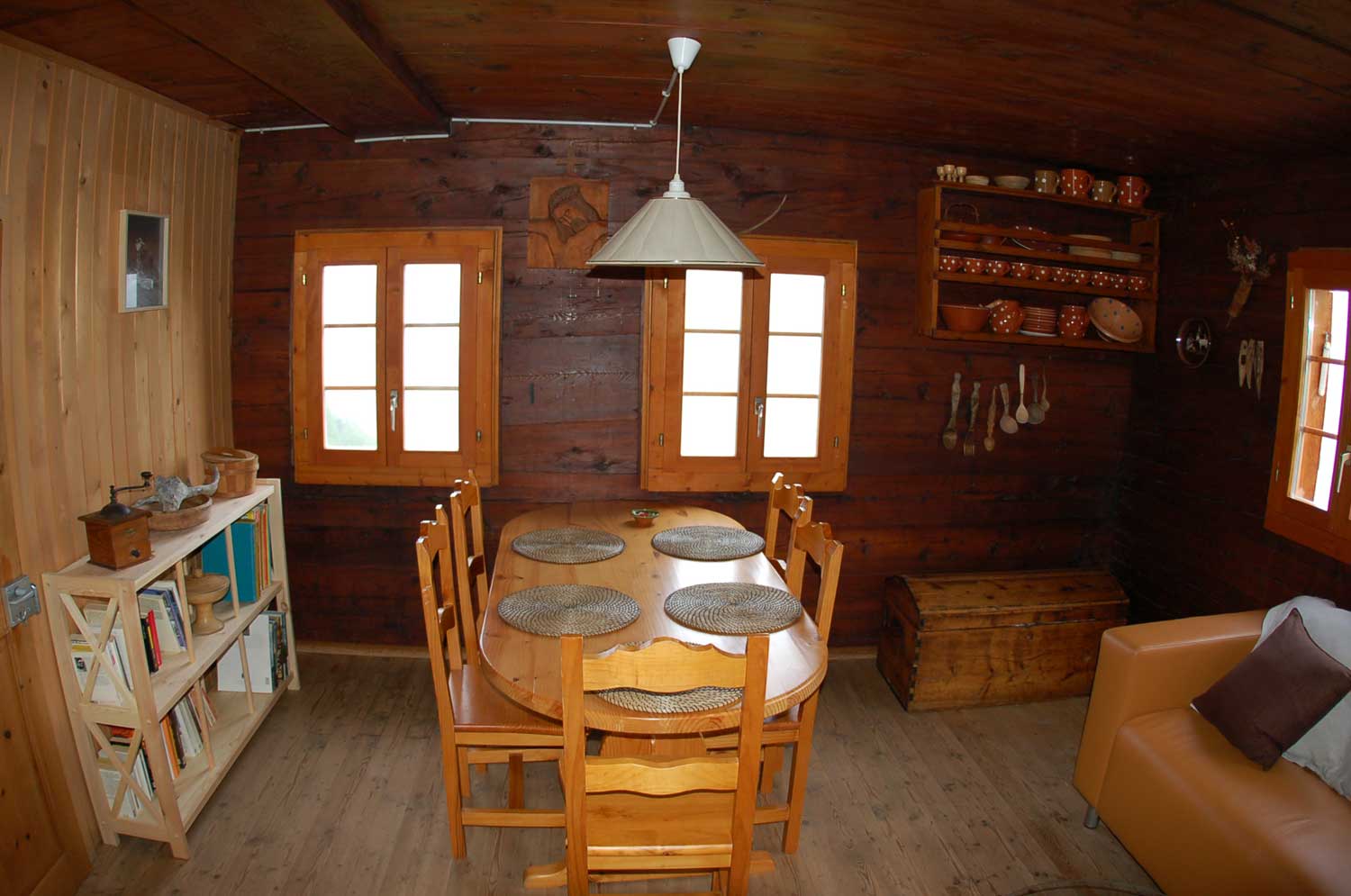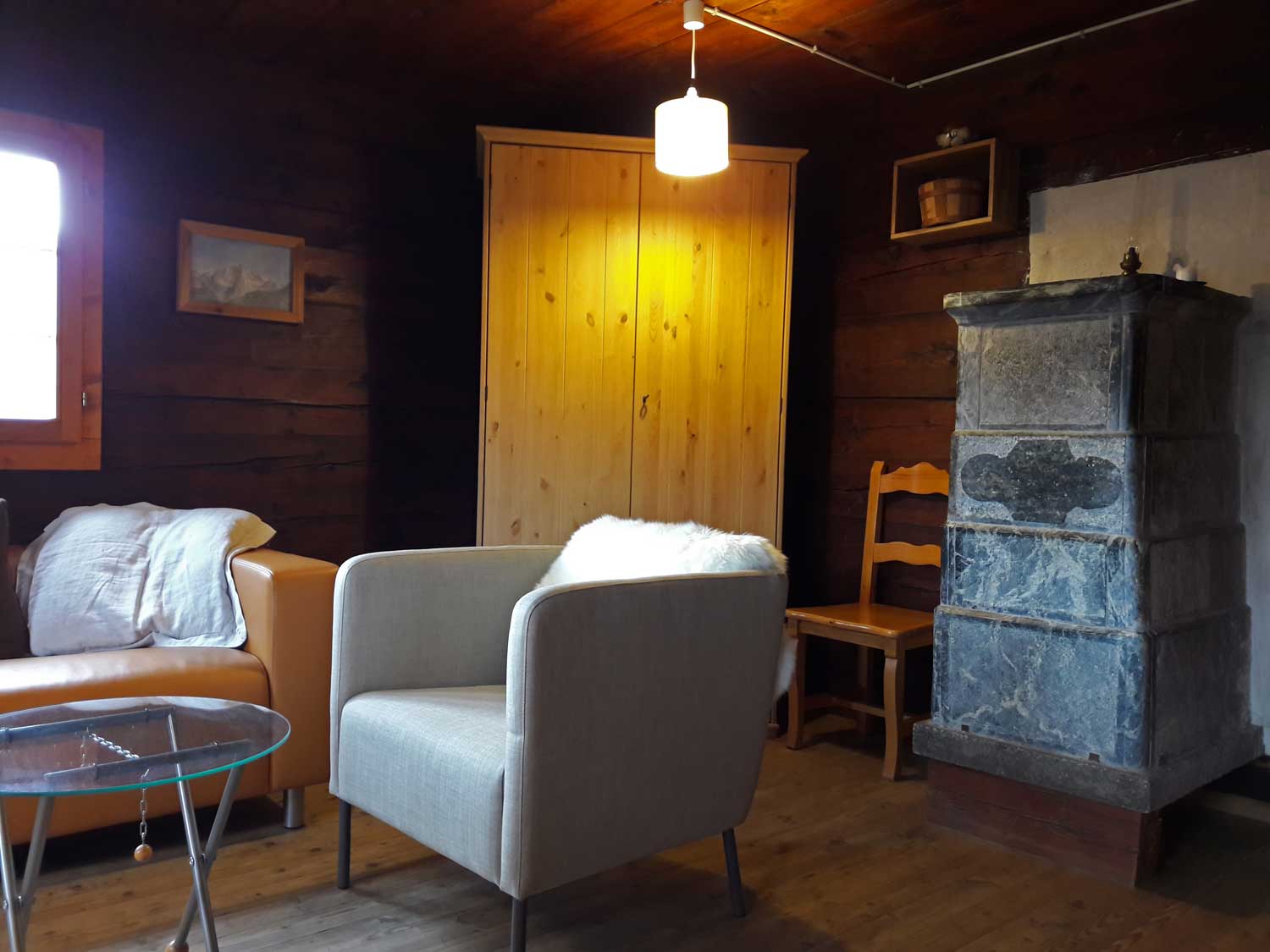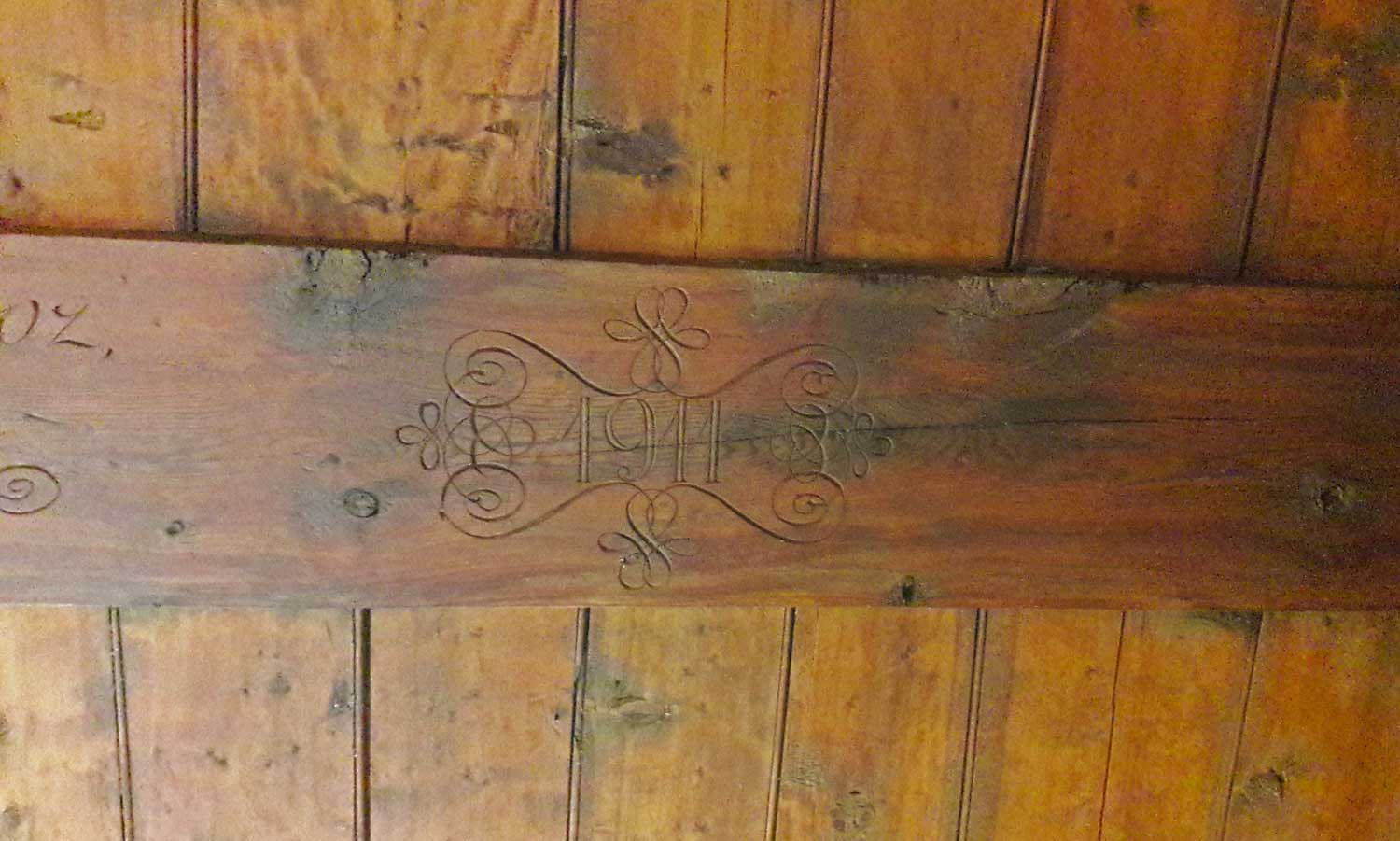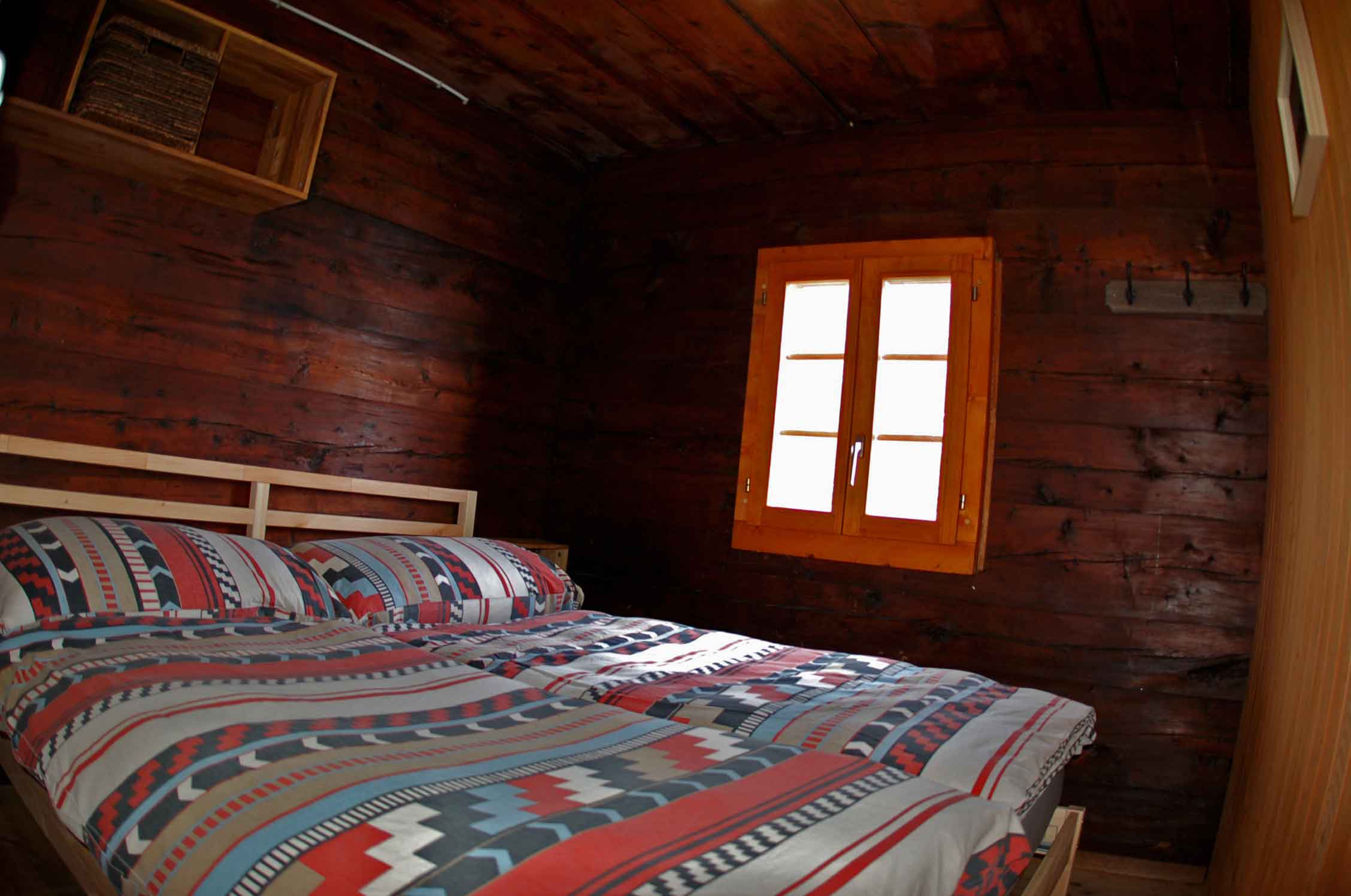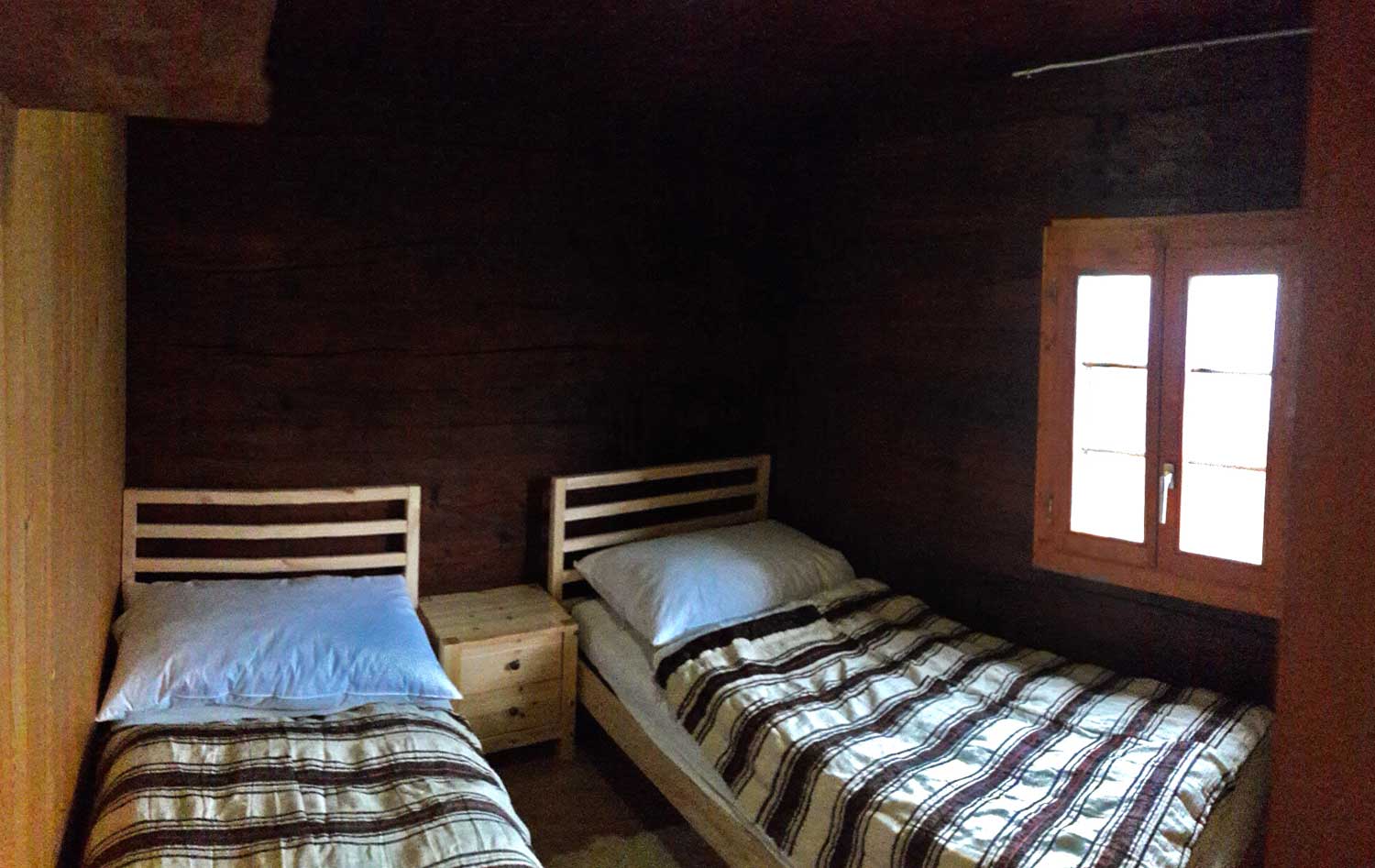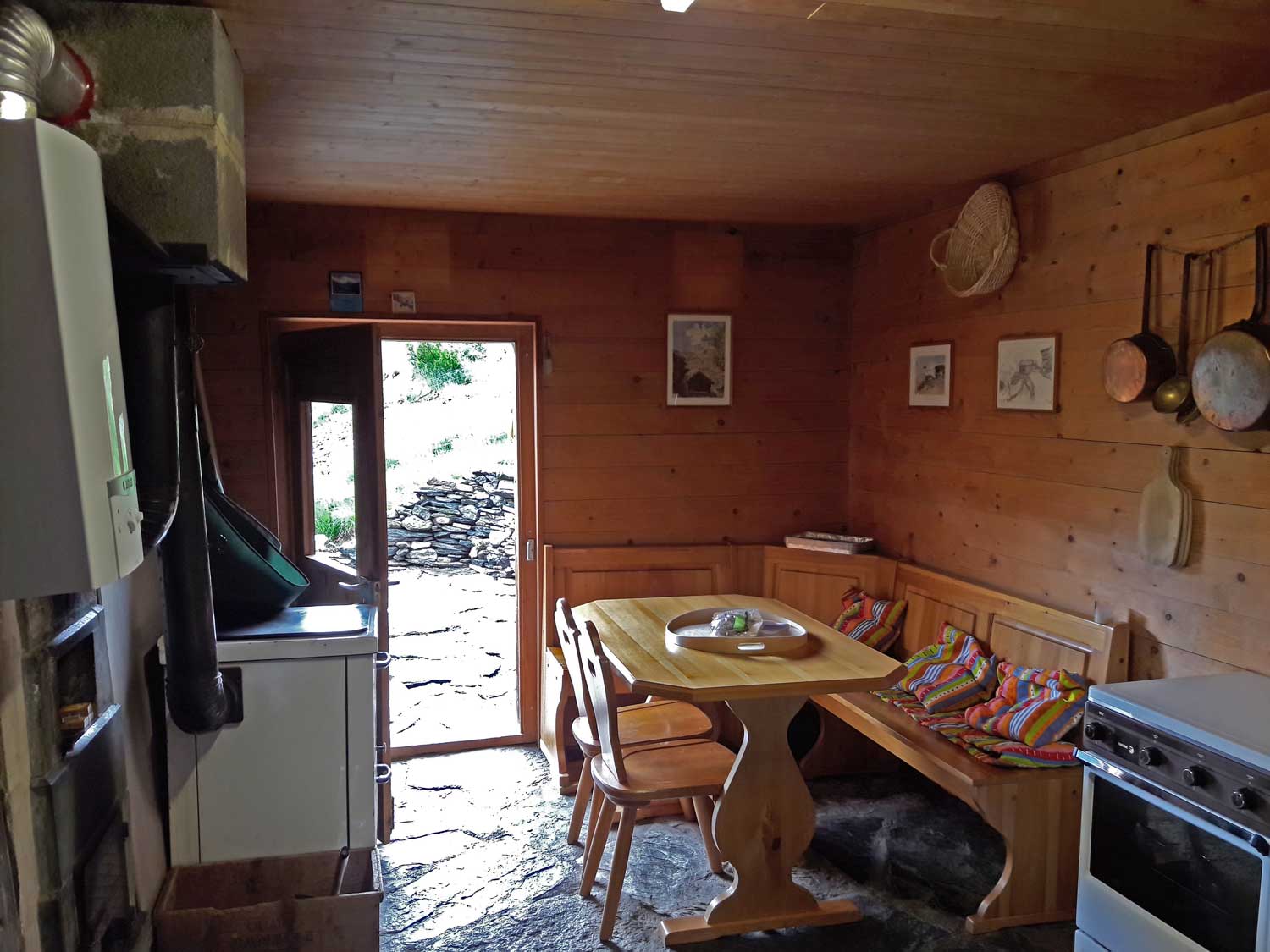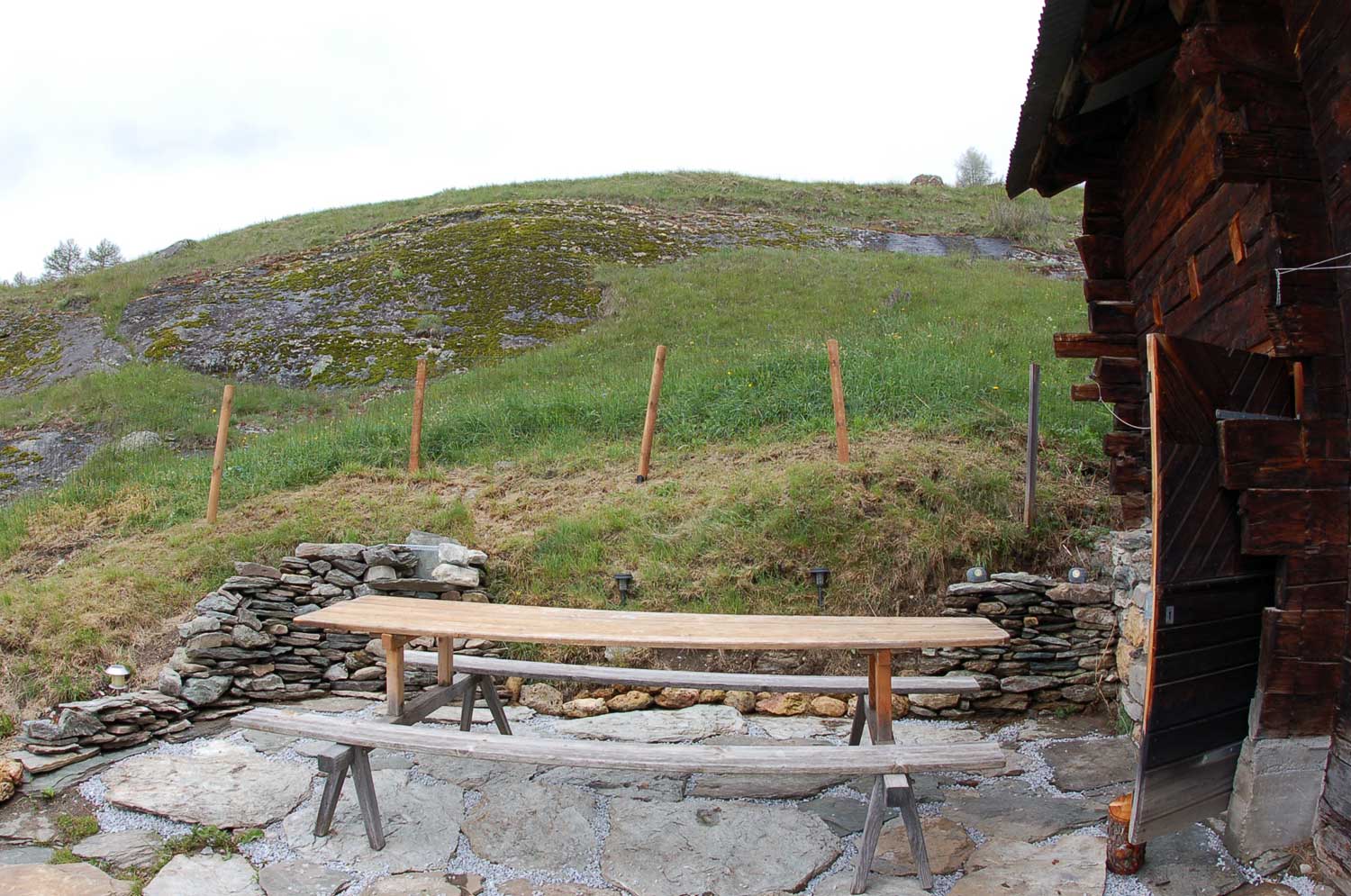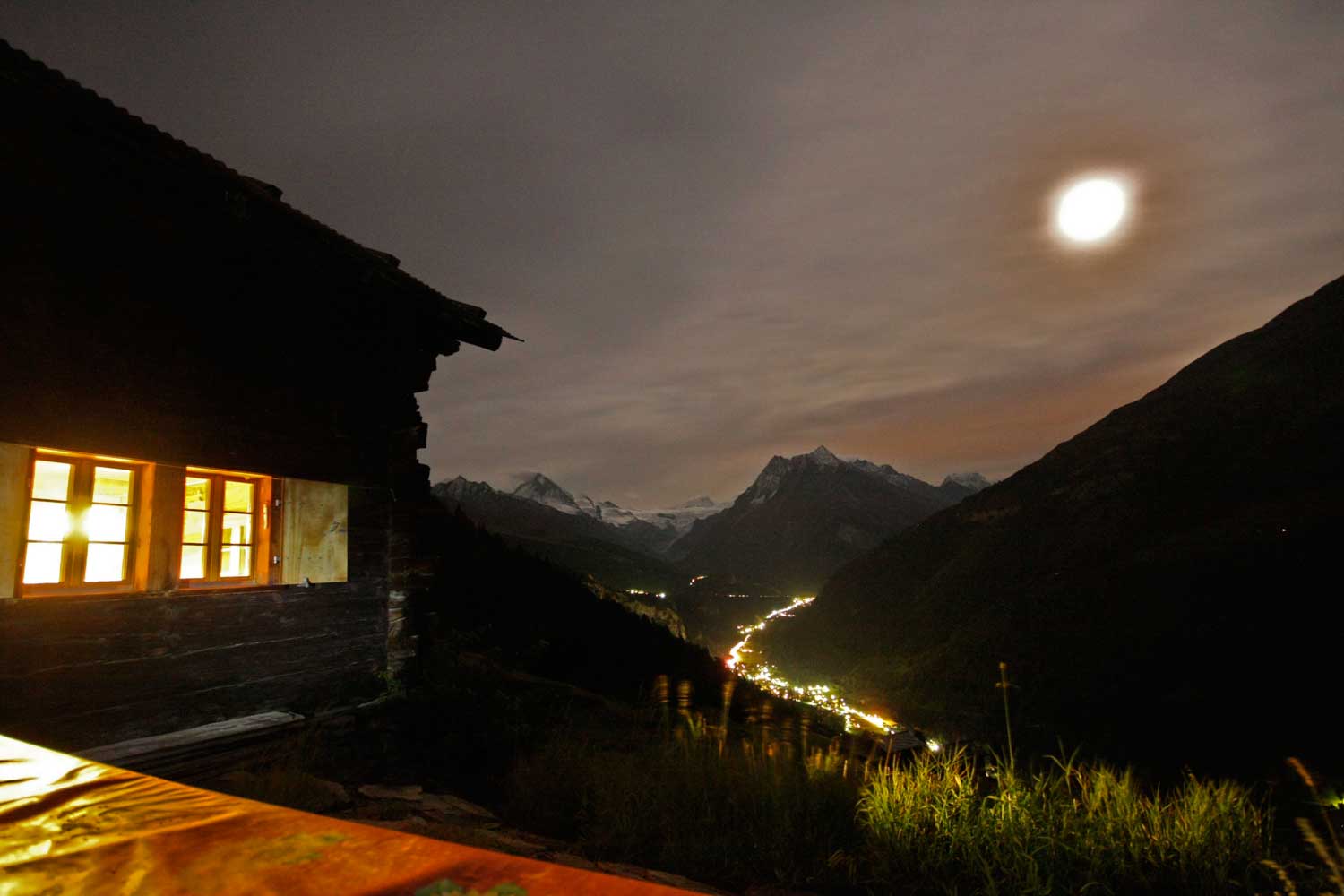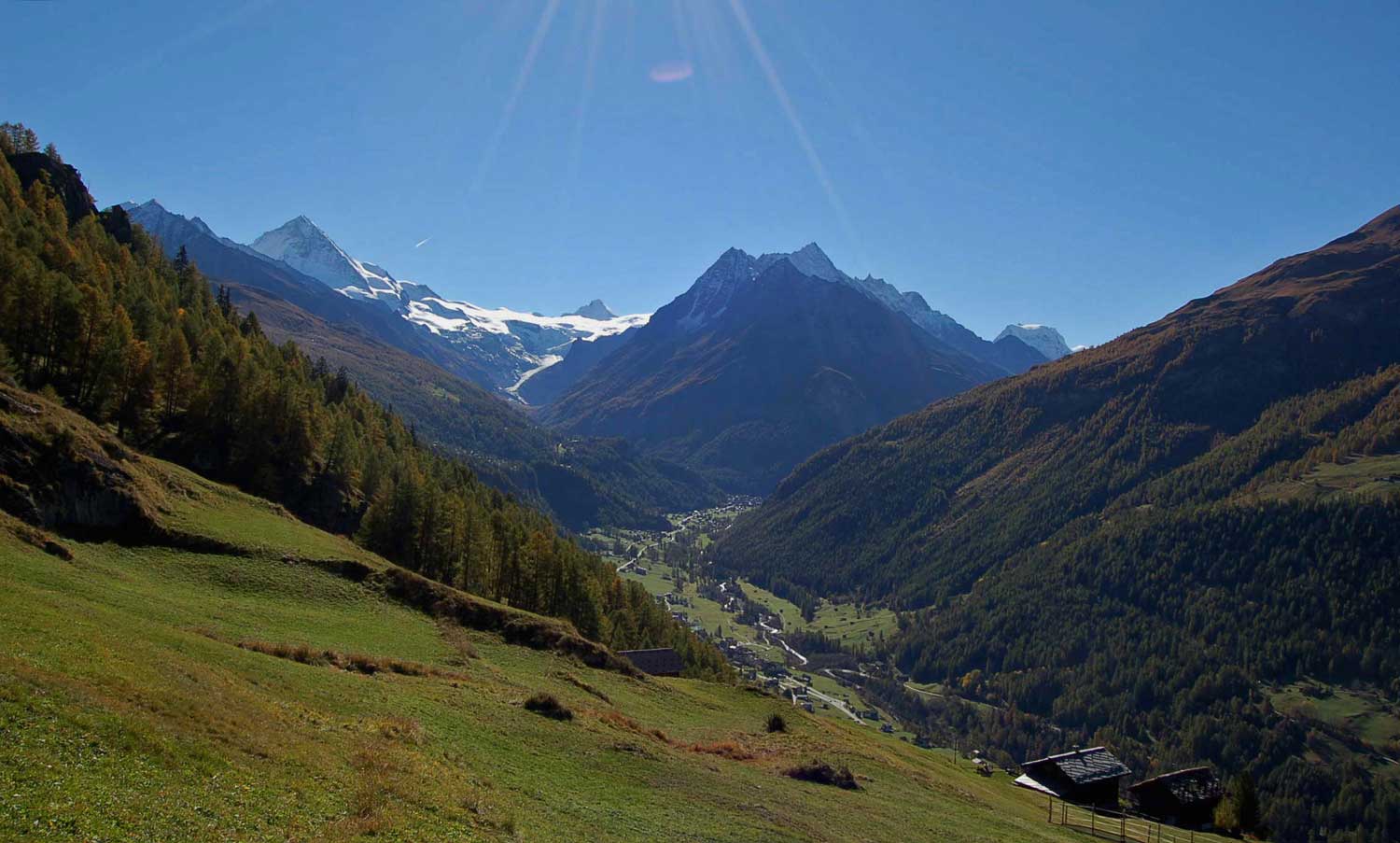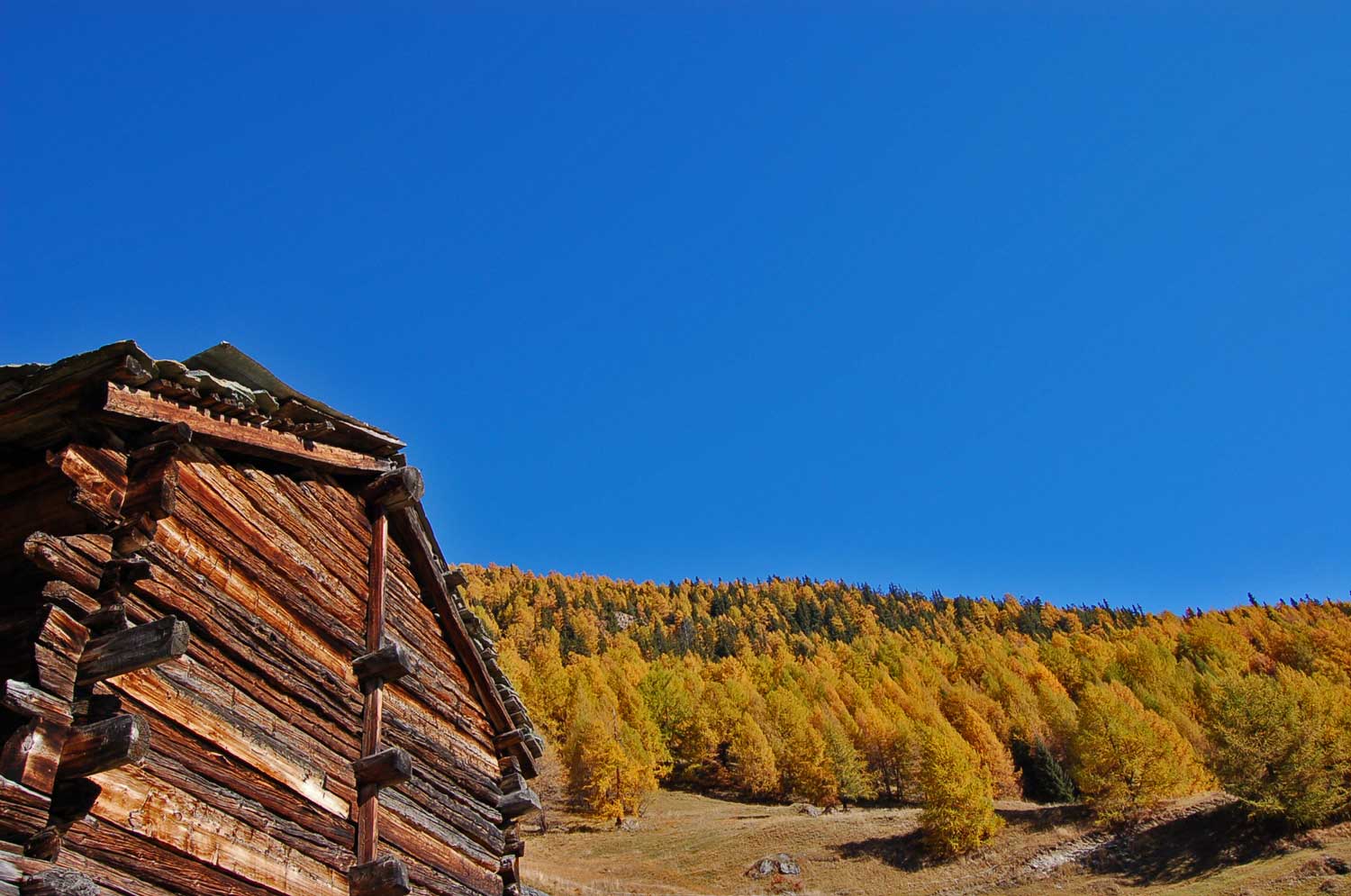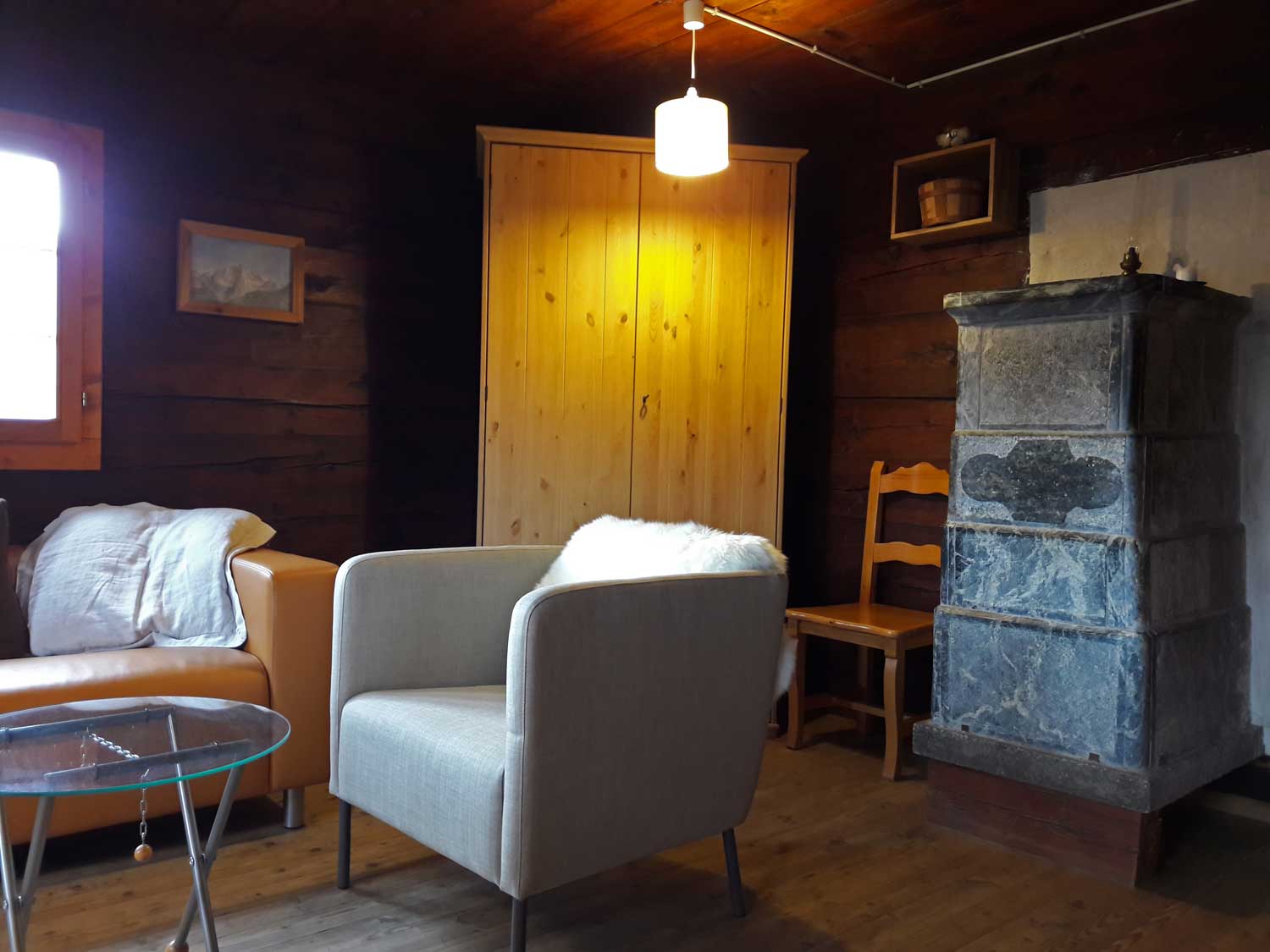 Chalet_Nid_d_Aigle_Mayen_louer_Evolene_Herens_Valais
Mayen_Nid_d_Aigle_Volovron_pierre_ollaire
















[:de]
Ihre Ferien in einem authentischen Maiensäss im Jahre 1911 gebaut. Heimkehr und Heilung mit Blick auf eine der schönsten Aussicht in die Alpen. Vor kurzem vollständig renoviert hat sich dieses Chalet seinen besonderen Charakter erhalten und stellt ein perfektes Gleichgewicht zwischen Modernität und Einfachheit dar.Ein gemütlicher Zufluchtsort fernab von Lärm und Hektik der Zivilisation, der zum Innehalten und Verweilen einlädt.
Die Alphütten Volovron liegen auf einer Sonnenterrasse oberhalb von Evolène, von welcher aus sich eine grandiose Sicht auf sämtliche Gipfel der im oberen Val d'Hérens gelegenen Berge öffnet. Ein befahrbares Strässchen garantiert eine komfortable Anreise bis in die Nähe des Chalets. Letztes liegt nichtsdestotrotz in vollständiger Abgeschiedenheit, 1'800 MüM, südliche Ausrichtung.
Austattung :
– Traditionnelle Wohnzimmer mit Specksteinhofen aus Evolène, 6-Sitzer Tisch, Sofa und Sessel
– 2 Schlafzimmer (4 Plätze) – 2 Betten 90*200 et 1 Bett160*200
– 1 Küche mit Backofen und Kühlschrank mit integrierter Essecke
– 1 Badezimmer mit WC und Dusche
– Terrasse mit Blick auf das Tal
Das Licht wird mit Solarenergie produziert
Wegen der Höhe und der Isolierung von der Hütte, wird der Zugriff nur von Mai bis Oktober ganratiert.
Verfügbarkeit auf Anfrage. Vermietung ist möglich von Mai bis Oktober . Preis nach Vereinbarung.
Online-Reservierung Maiensäss Chalet Adlernest
Reservieren
Fotos Maiensäss Adlernest (1'800m)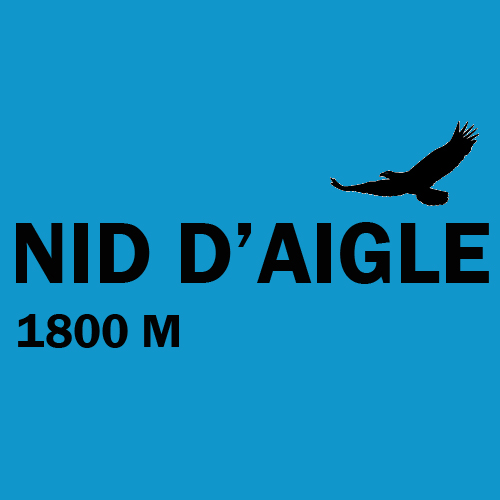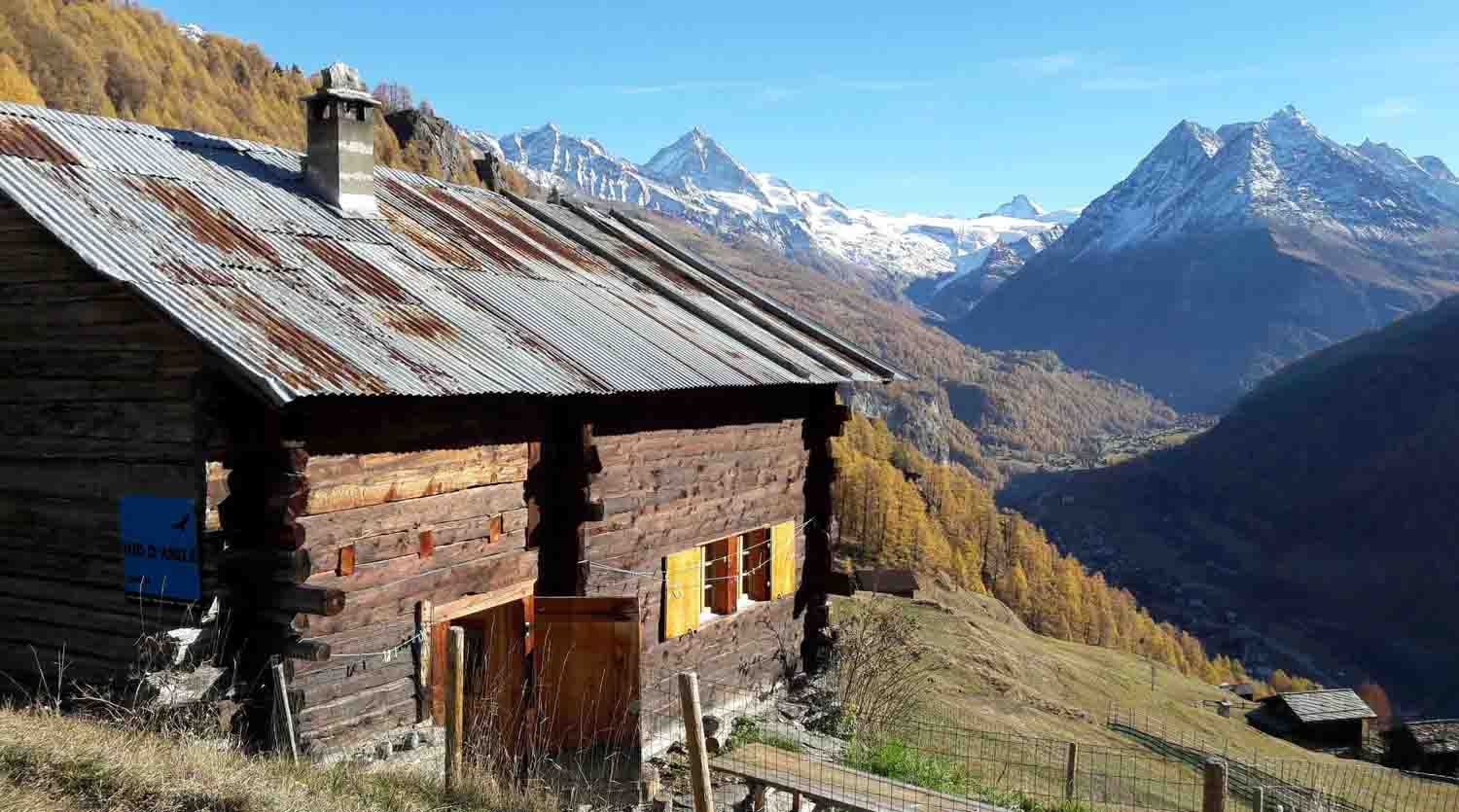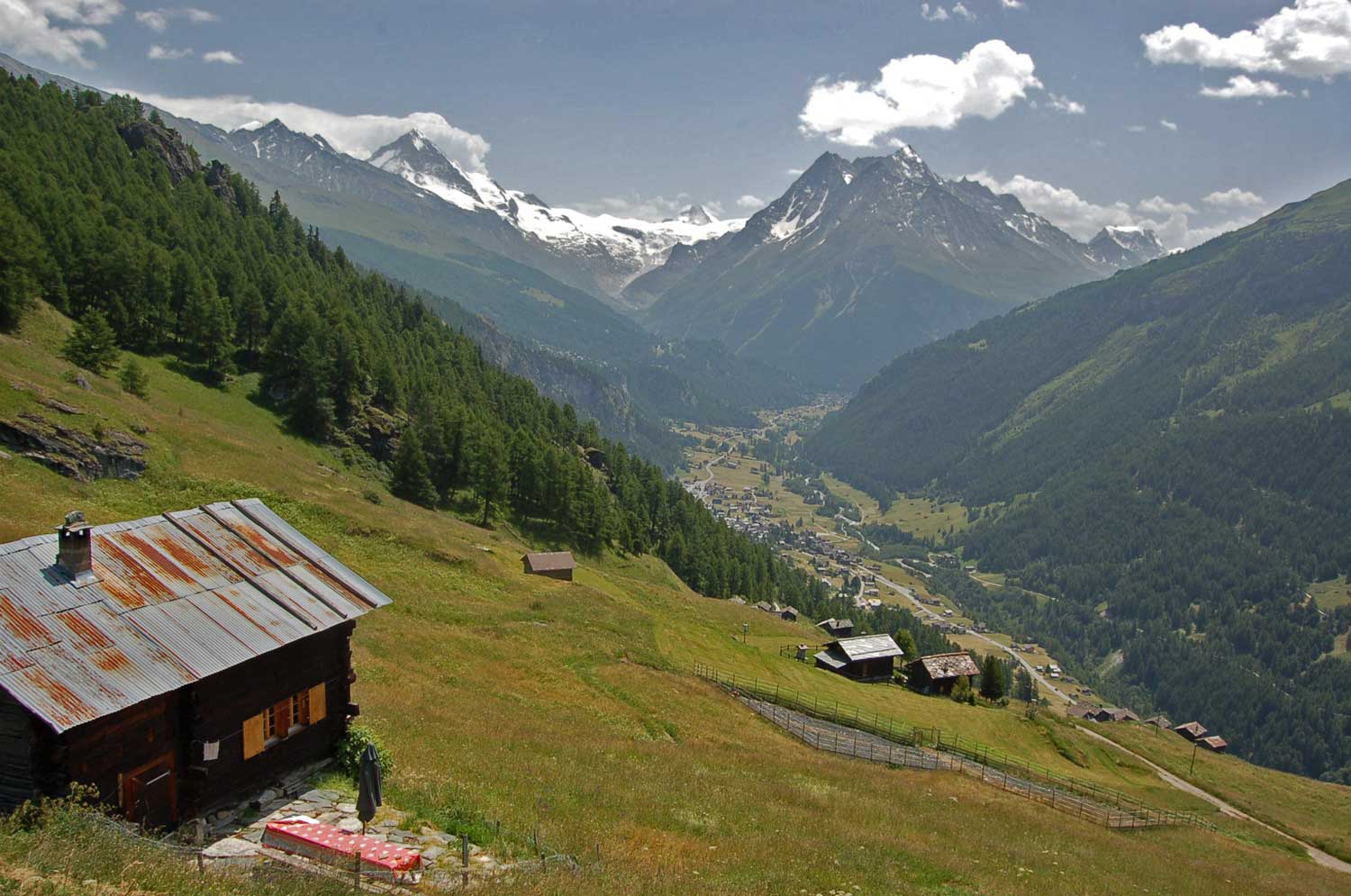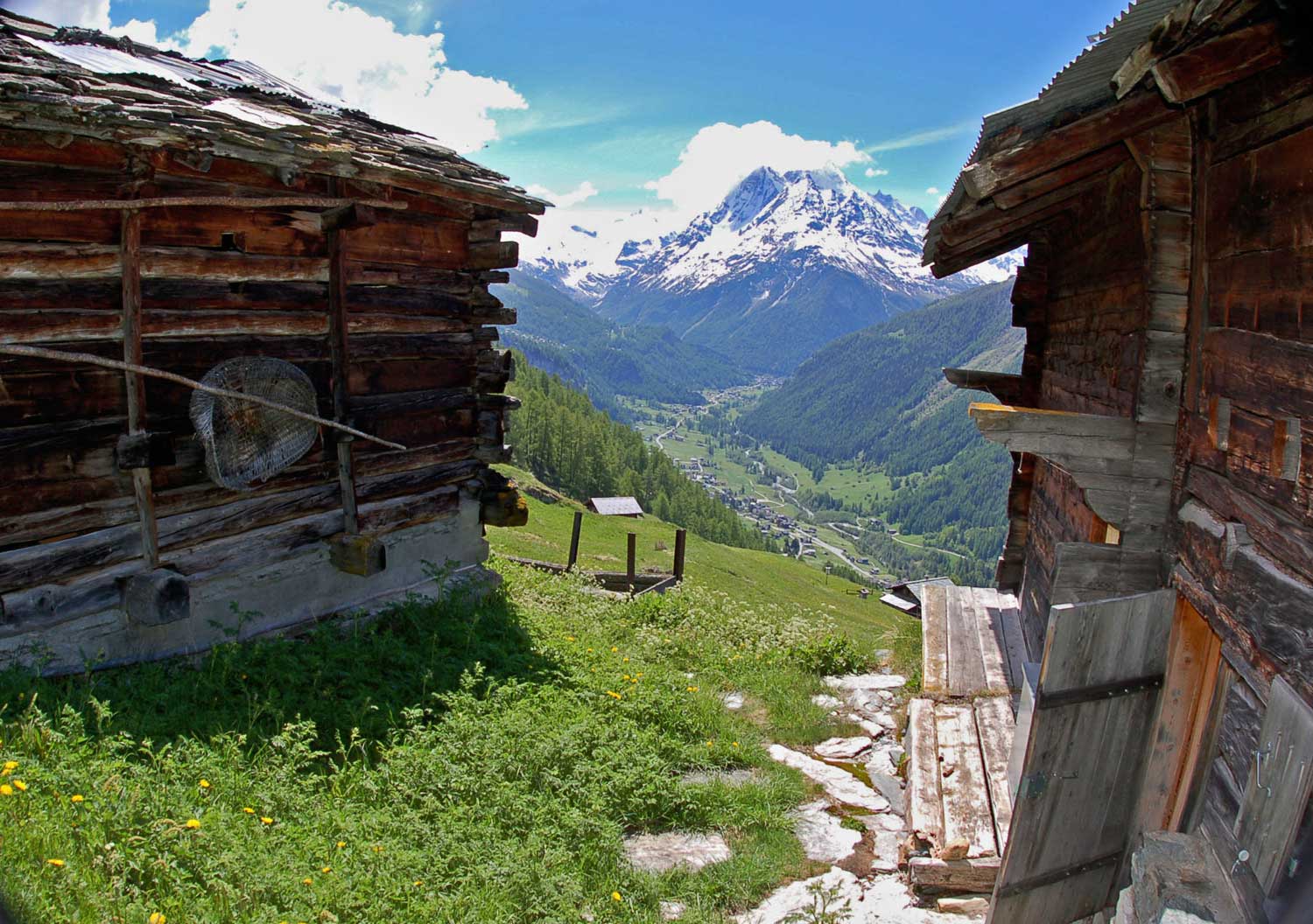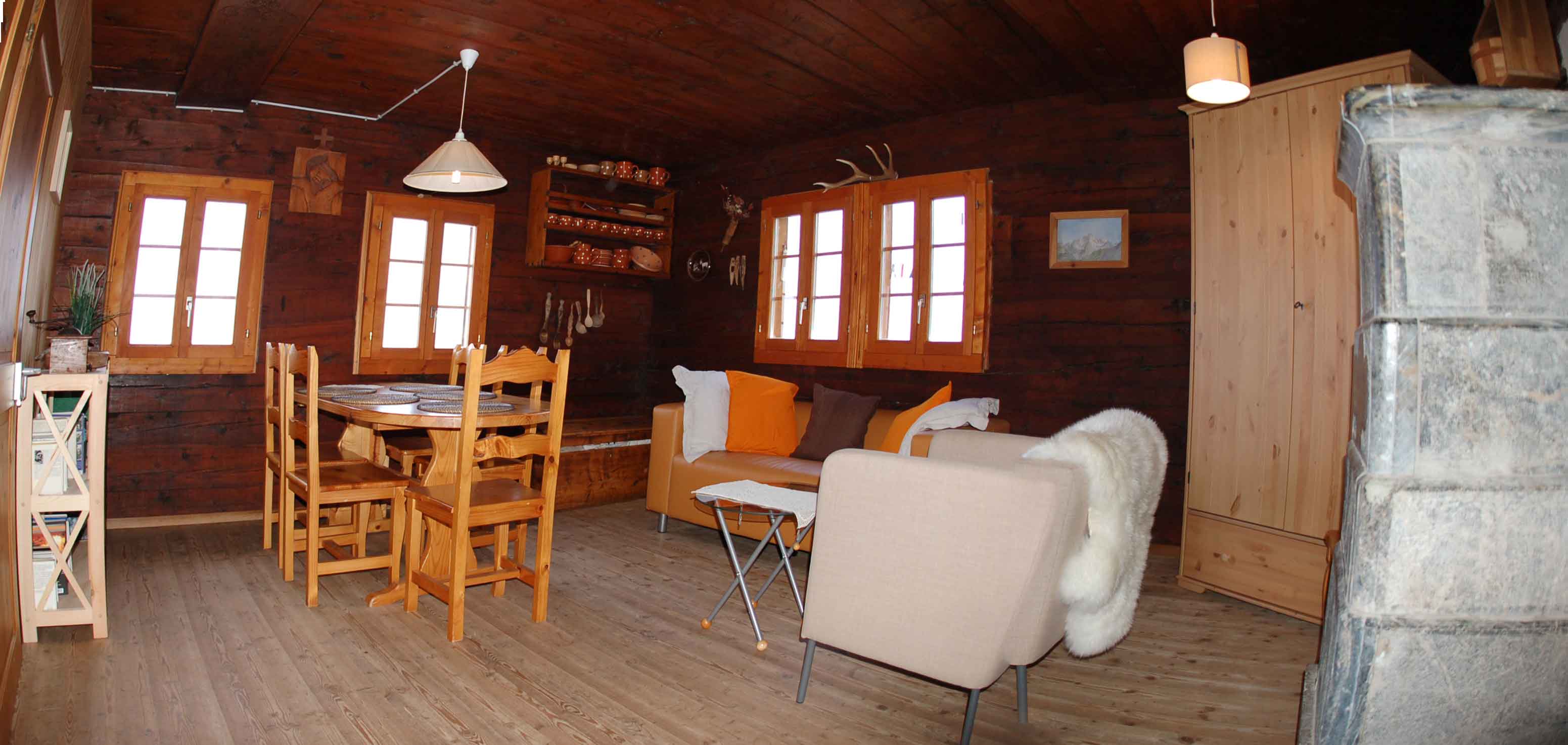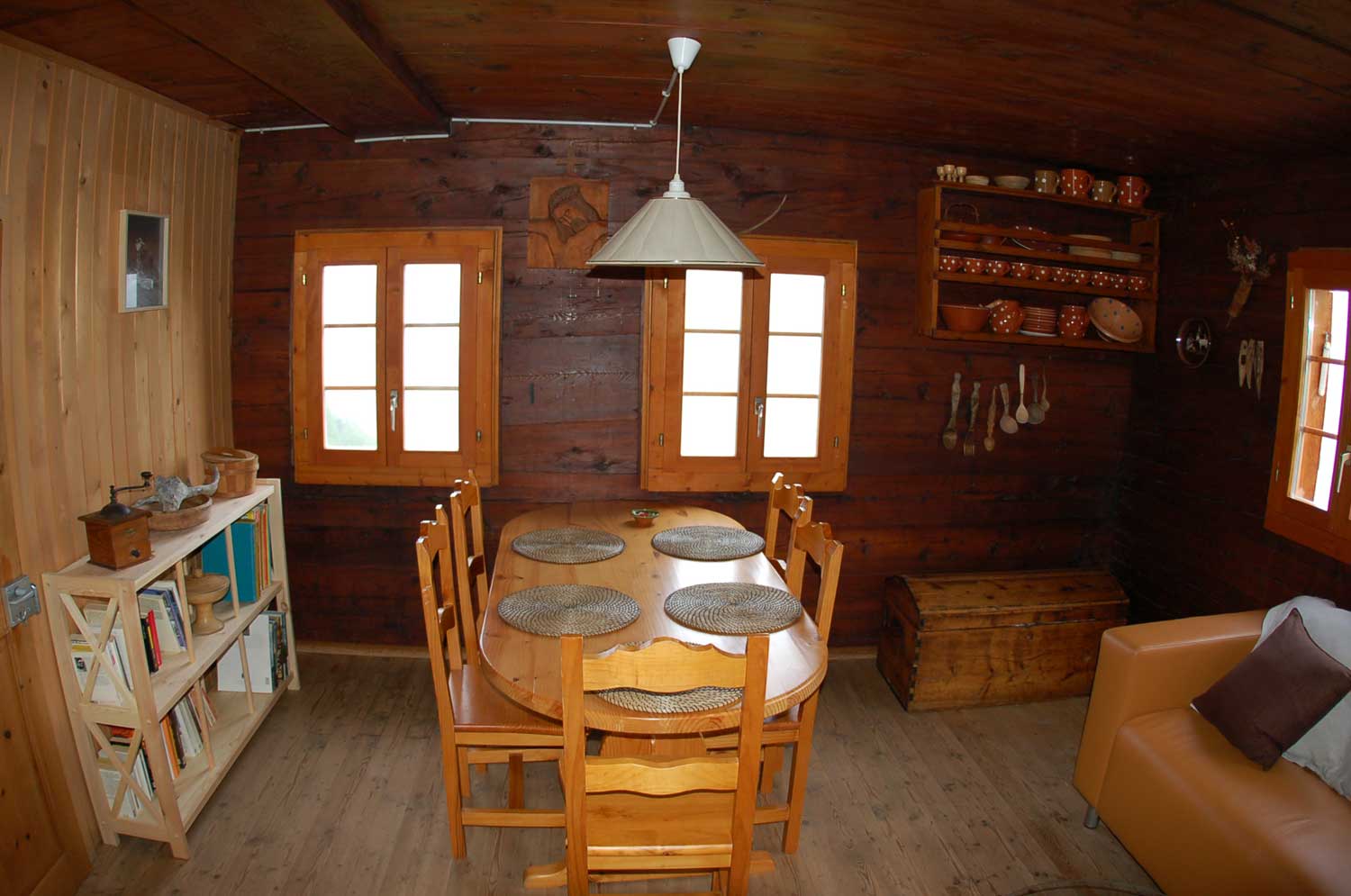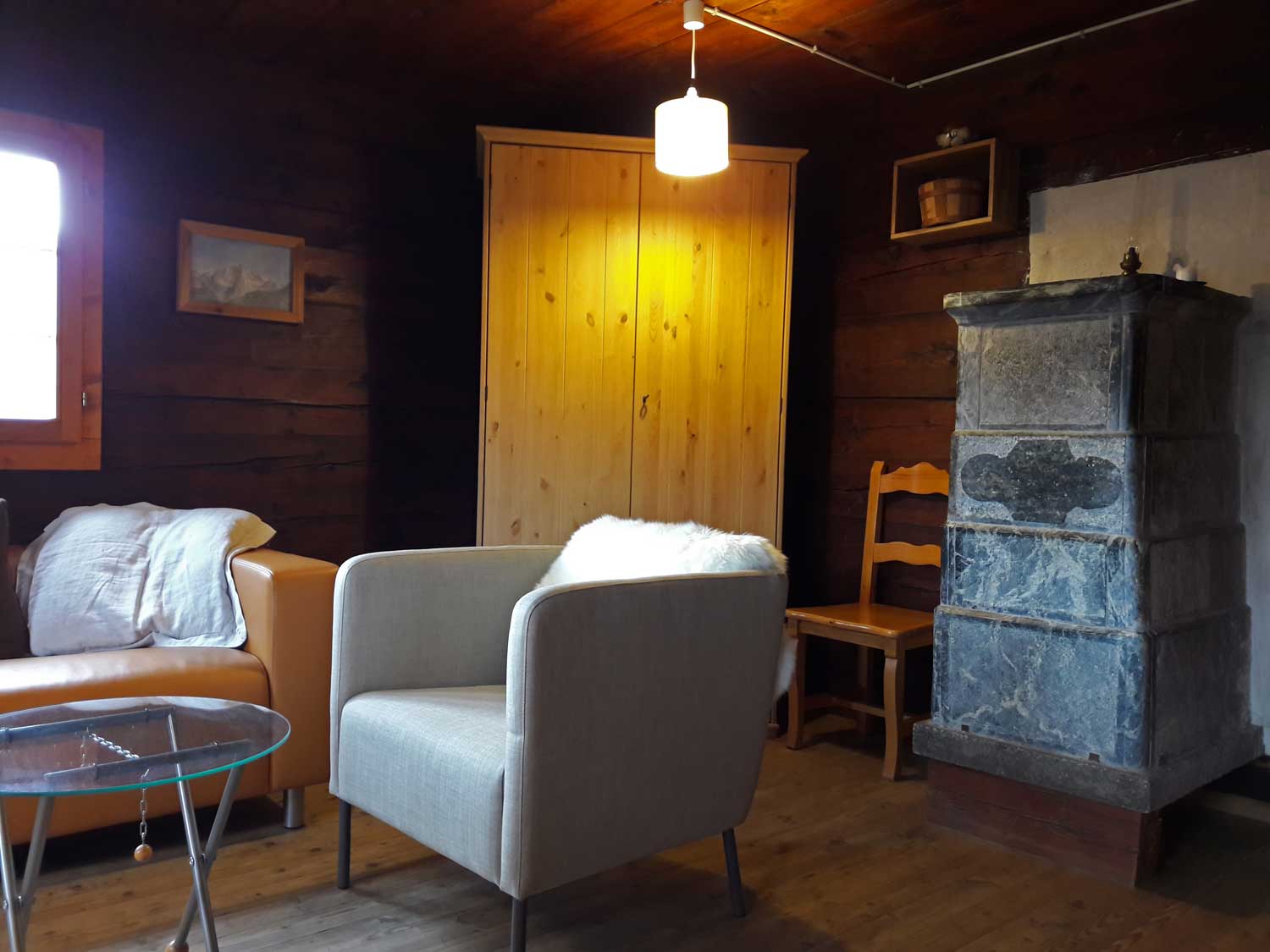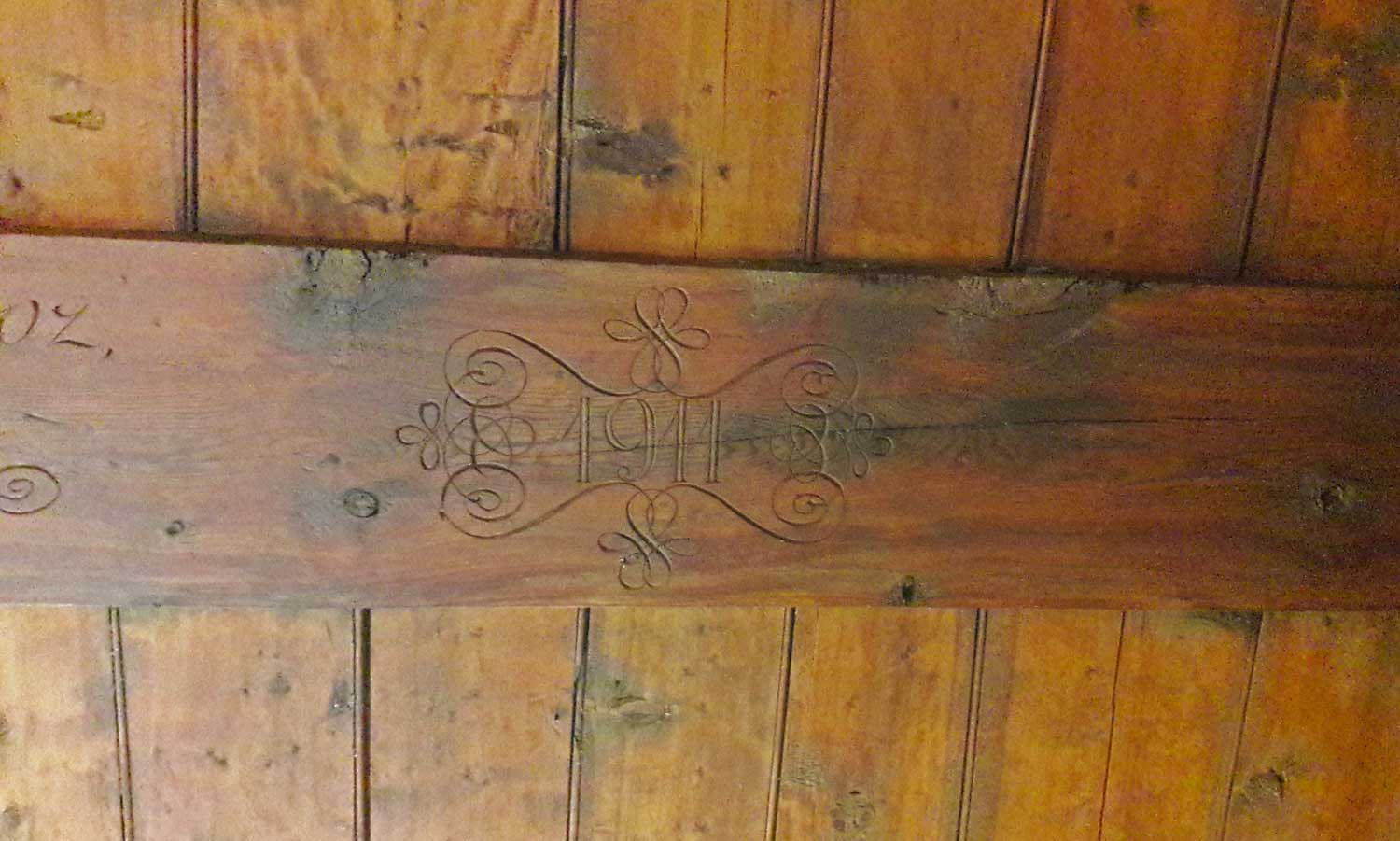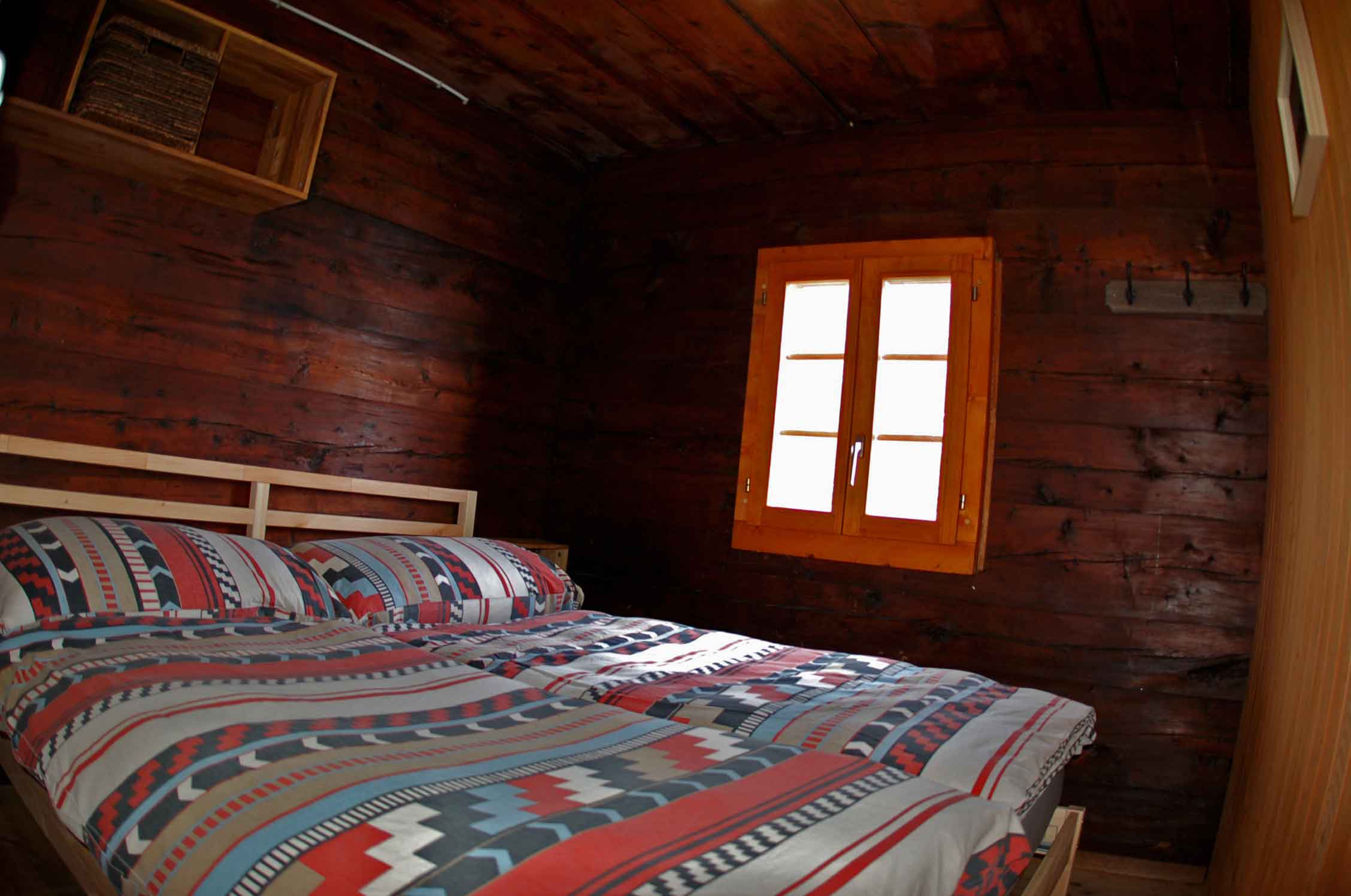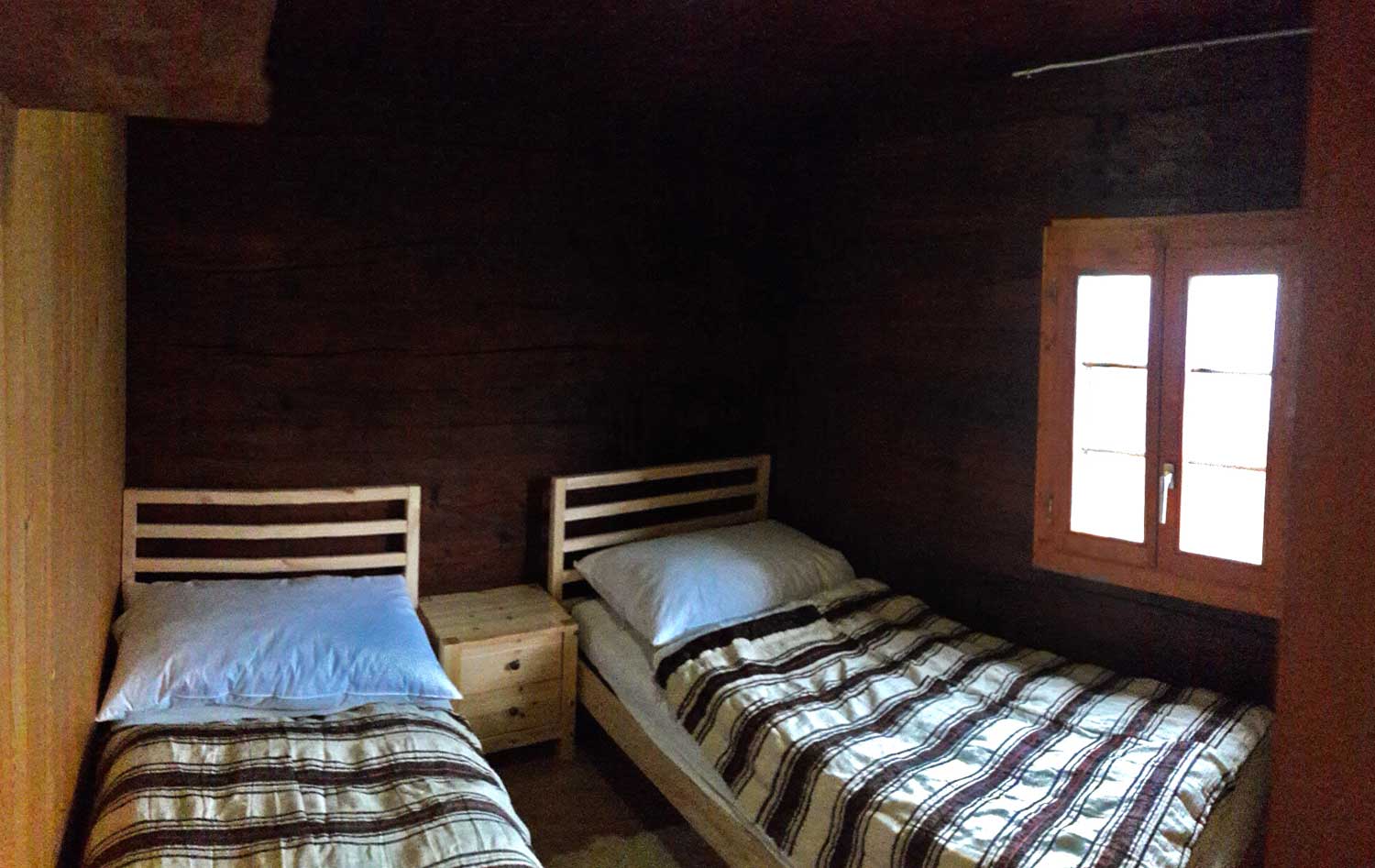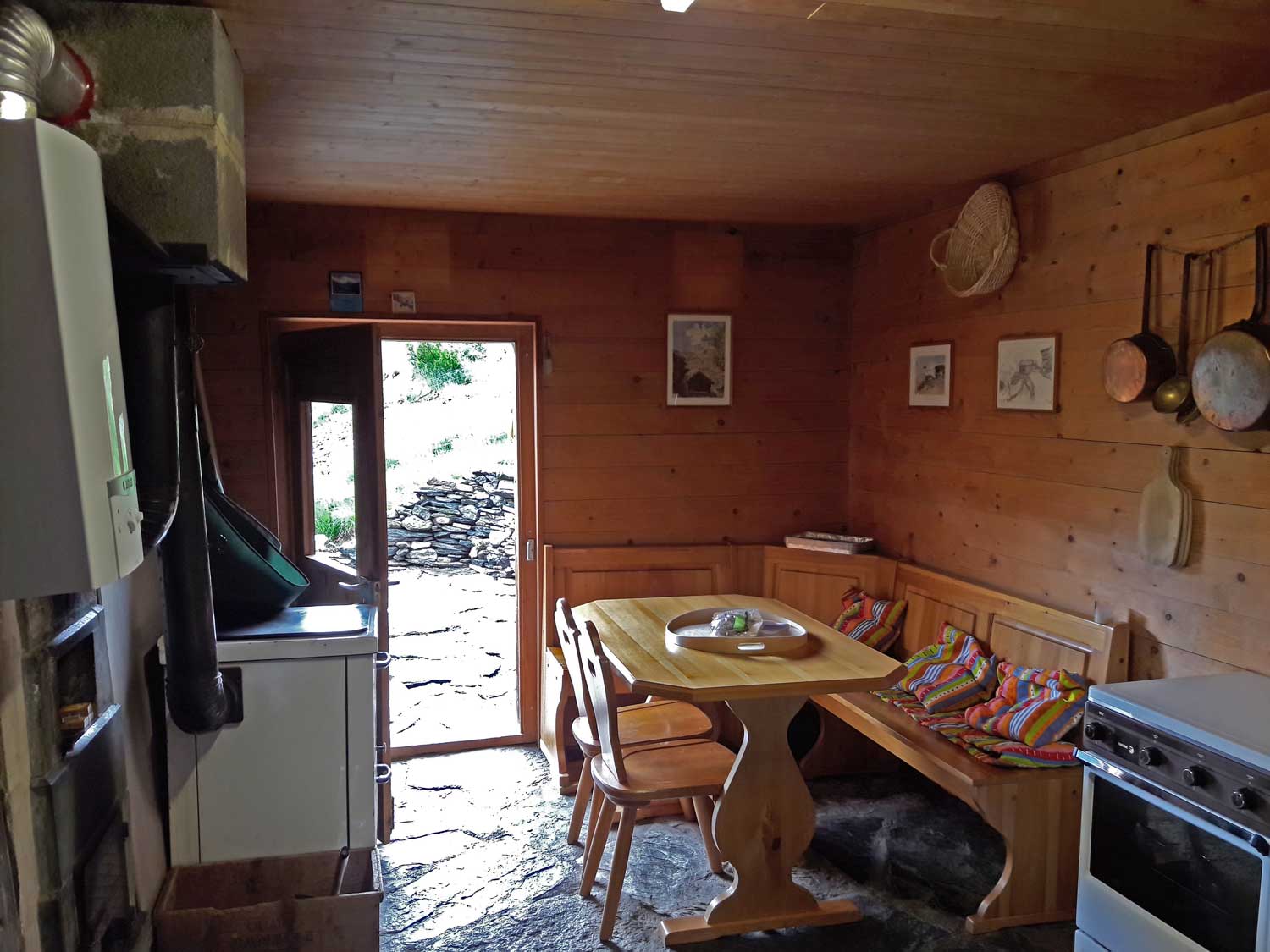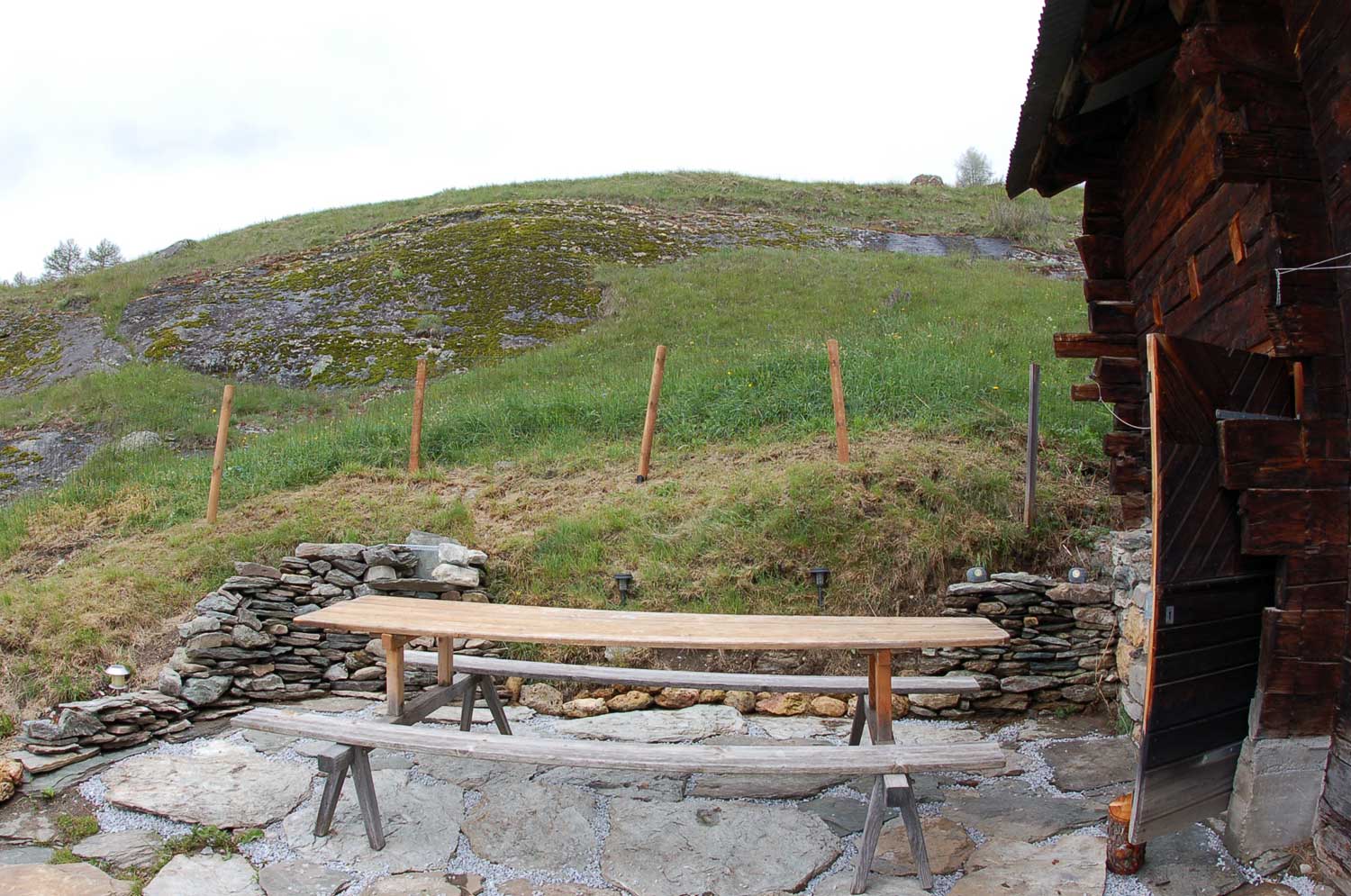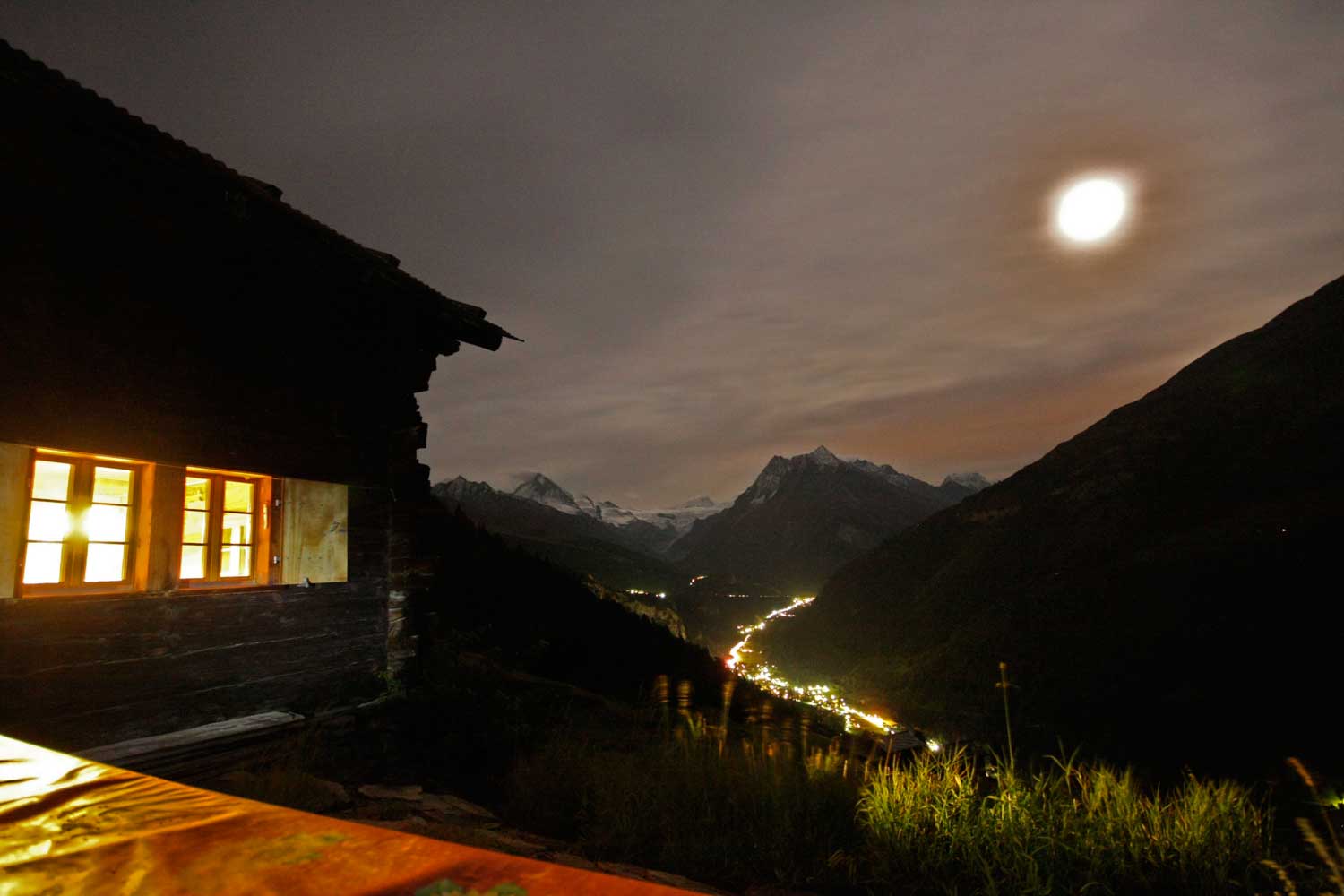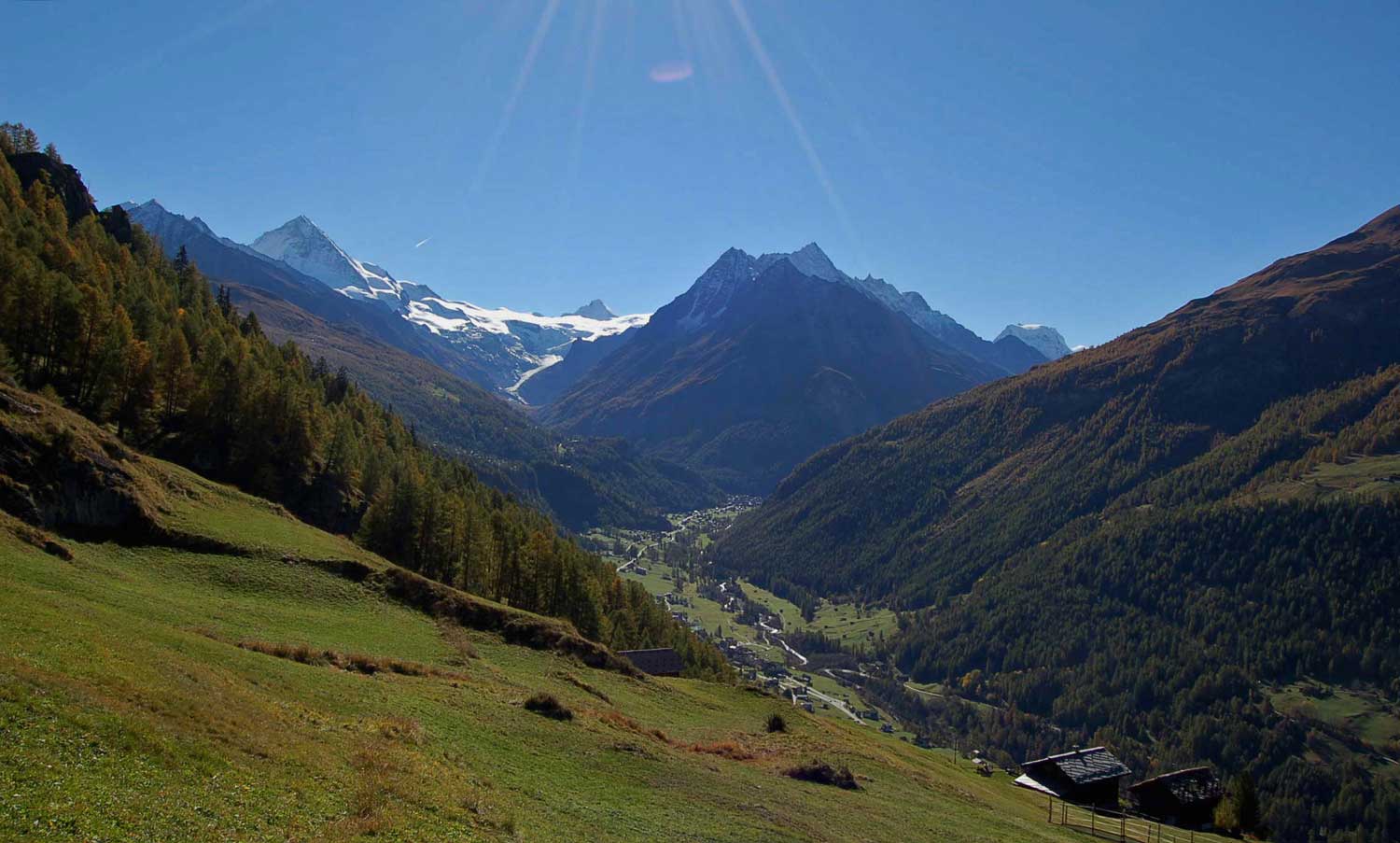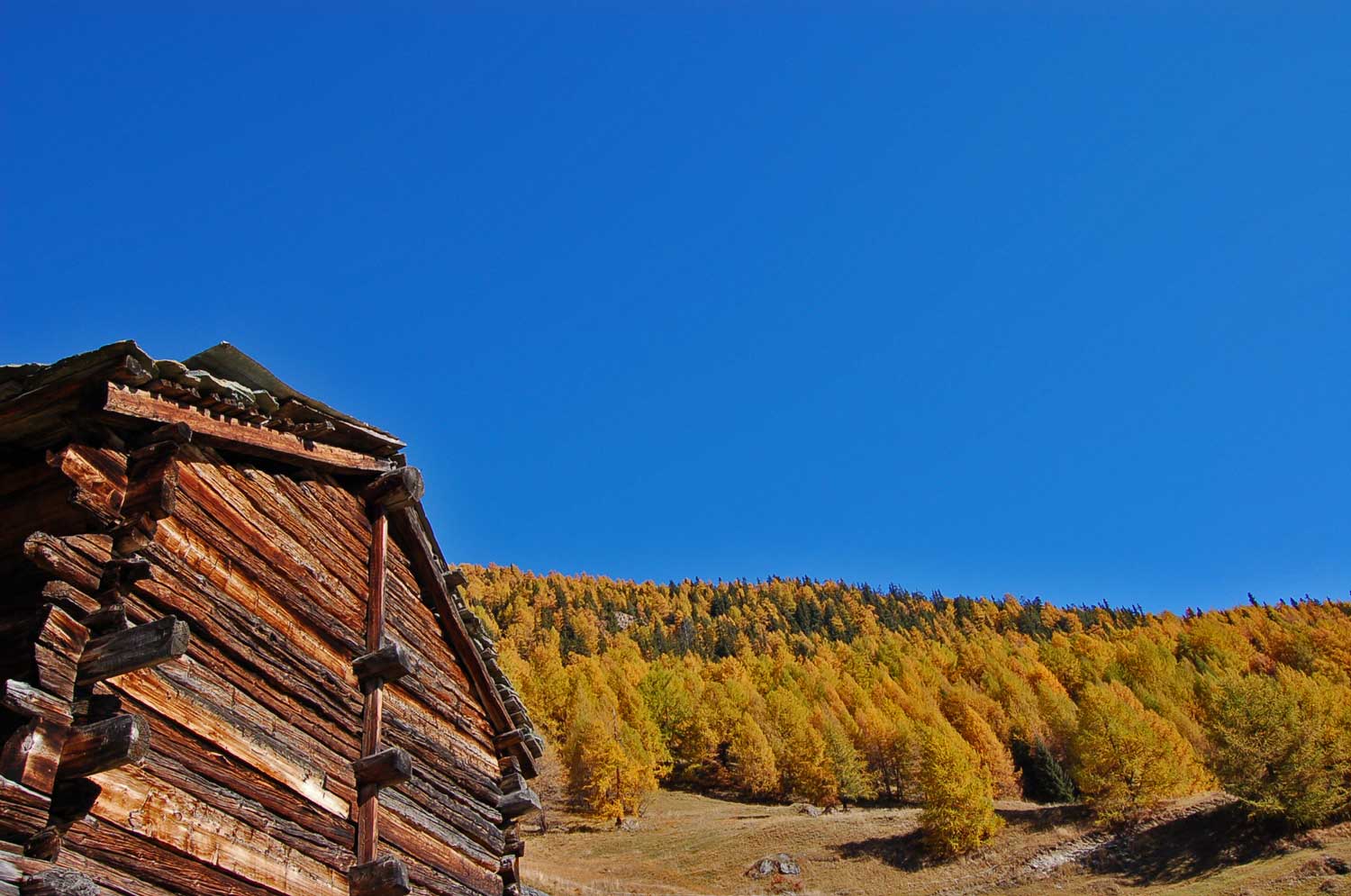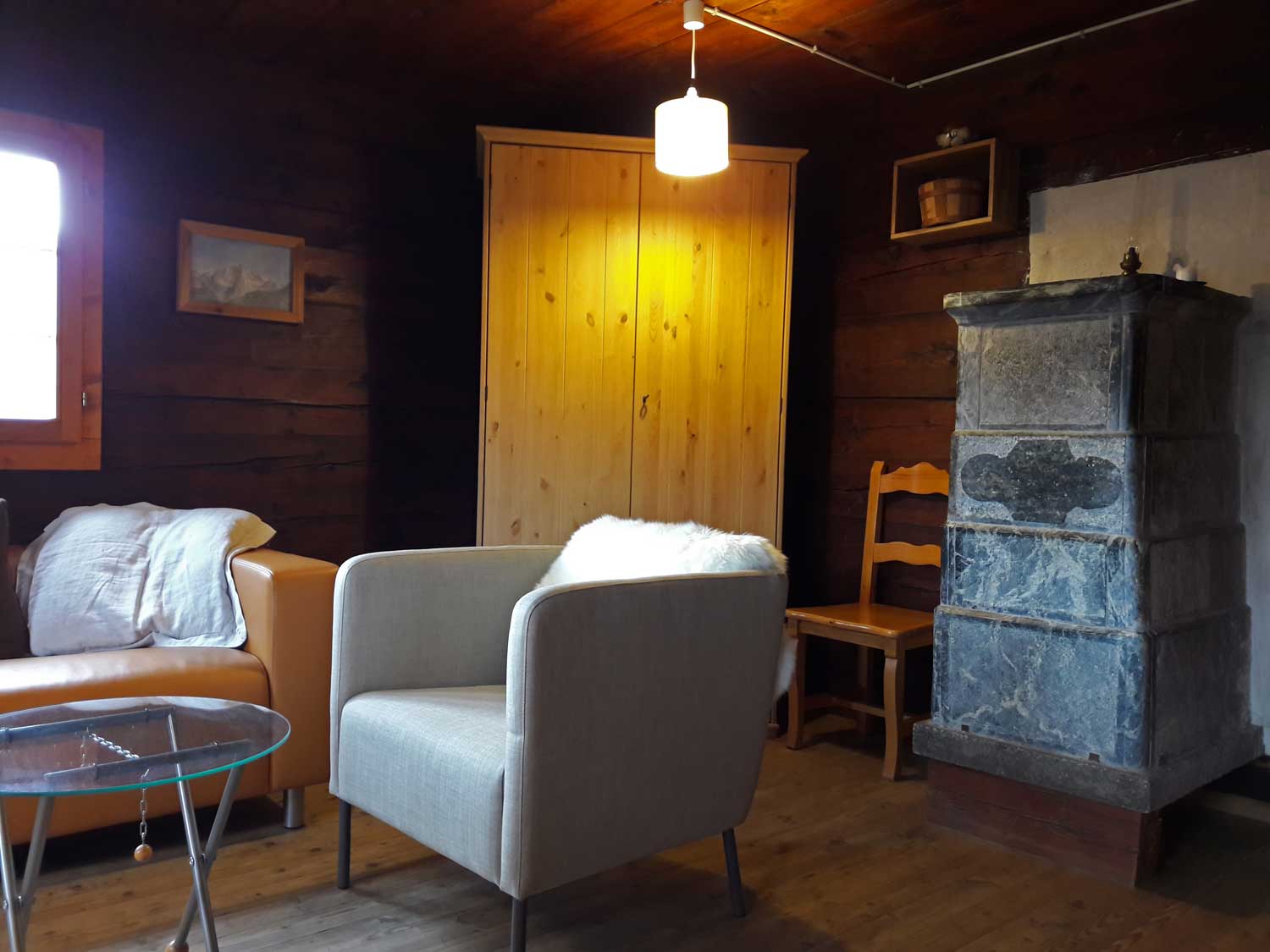 Chalet_Nid_d_Aigle_Mayen_louer_Evolene_Herens_Valais
Mayen_Nid_d_Aigle_Volovron_pierre_ollaire
















[:]